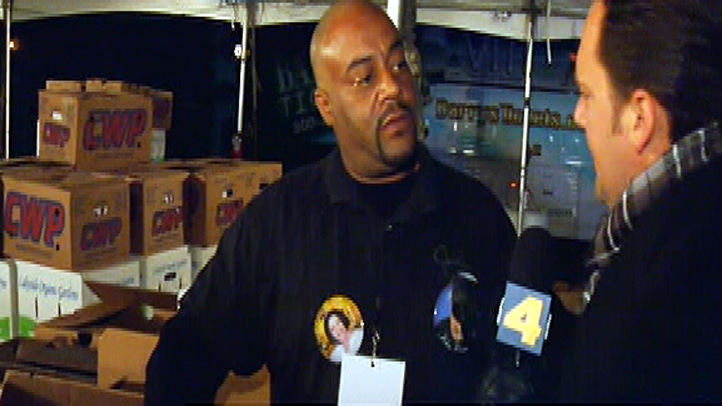 Romeo, like thousands of others in the Southland, has fallen on hard times in 2011, and he's looking for whatever he can to make the holidays appear normal for his family.
In South Los Angeles,
the
Jackson Limousine Service
will hold its 23rd annual Turkey Dinner Giveaway Tuesday. Thousands of people traditionally line the sidewalks leading to the service's Slauson Avenue center to receive the turkey dinners.
Local
Local news from across Southern California
"I donated last year," said Romeo, who lined up at 9 a.m. Monday hoping for help this Thanksgiving before the gates open at 8 a.m. Tuesday to do just that. "I didn't expect to be here, but this year's been tough."

About 10,000 people are expected to benefit from the giveaway, which is sponsored by the company's founder E.J. Jackson. Among the celebrities expected to help distribute the boxes are David Dossett ("Operation Repo''), Noah Dahl and Andy Scott Harris ("Bad Teacher''), Britt Griffith ("Ghost Hunters'') and Jasmine Dustin ("Doheny Models'').
Meanwhile, Rose Queen Drew Helen Washington and her Royal Court will be in Arcadia as the Foothill Unity Center provides food boxes to families. About 2,000 food boxes will be distributed by the center at events leading up to Thanksgiving and Christmas.
In El Monte, more than 1,000 families will line up at the Immanuel Episcopal Church's Our Saviour Center to receive turkeys and Thanksgiving meal fixings.
About 500 turkeys will be given away at Inner-City Games and Hollenbeck Youth Center's 30th annual turkey giveaway. For the third year in a row, the turkeys were donated by former Gov. Arnold Schwarzenegger, who will not be attending the event.
In Montebello, Sen. Ron Calderon, D-Montebello, will hand out more than 600 turkeys at his fifth annual "Operation Gobble'' event, benefiting more than 30 charity groups.
In Venice, turkeys purchased by Zsa Zsa Gabor and her husband will be distributed at the Vera Davis McClendon Youth & Family Center, where Gabor served her community service for slapping a Beverly Hills police officer.
Follow NBCLA for the latest LA news, events and entertainment: Twitter: @NBCLA // Facebook: NBCLA