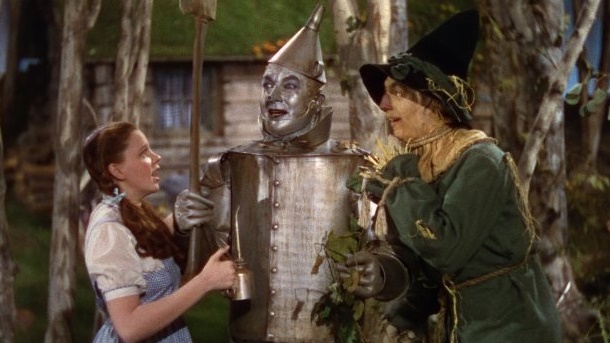 "The Wizard of Oz": If you were a tot back in the summer of '39, you just might have found yourself in a cinema, watching Dorothy Gale and her friends skip down the Yellow Brick Road on their way to the Emerald City. If you weren't, and you caught the iconic classic on television, years after its release, then you may have never known the pleasure of seeing it played large. That can change, on Jan. 29 and 30, when the movie returns to several SoCal theaters. Tickets to this 80th anniversary event? Find them at Fathom Events.
Scum & Villainy Theme Night: Mondays have a way of being highly Mondayish, but scheduling a surreal and celebratory evening, one that's themed to a beloved tale or universe, is just the ticket. And that's just what's happening at this former pop-up in Hollywood (yep, it's now permanent). "Alice in Wonderland" is the Jan. 28 theme, so dress as your favorite Caterpillar and slink to the colorful space for games and sips themed to the fantastical world. Run as fast as the White Rabbit to this page for more info.
Annenberg PetSpace PetWalk: Looking for a way to bid farewell to January with your sweet Fido at your side? This could be the adorable, stretch-a-leg ticket. Show up at the dog-loving space in Playa Vista by noon on Thursday, Jan. 31, then head out for an hour-long stroll around the area. You'll meet other lovers o' Lassies and Laddies, as well as dogs looking for forever homes. And, yep, you'll go home with a goody bag, too. Have you visited this sublime center of animal amazingness yet? This free to-do would be a solid hello.
Local
Local news from across Southern California
Free Beyond Sausage Dogs: How to kick off your week in the most savory and delicious of ways? By making for your local Dog Haus on Jan. 28 and ordering one of two Beyond Sausage dogs. Be one of the first 50 people to ask for either a Beyond Brat or a Sooo Veggie on that day, and nab it for free. What's the occasion? The started-in-Pasadena company is highlighting the offerings on its new plant-based menu. But, again, arrive early if you want that freebie; it is a Monday, meaning lots of people will be longing for a special treat.
Taste of Alhambra Restaurant Week: January, being on the long side, as months go, can feel like one of those "forever and ever" months, thanks to the long nights and chillier temps. But that doesn't mean that the fun parts of the first month will go on indefinitely. All of the month's deal-cool Restaurant Weeks are wrapping, but if you're still in the mood to find a fab meal and save dough, you're in luck: Several Alhambra eateries are offering prix fixe lunches and dinners through Saturday, Feb. 2. What are you craving? Thai, Korean, Peruvian? The choices are plentiful; browse here.
Copyright FREEL - NBC Local Media