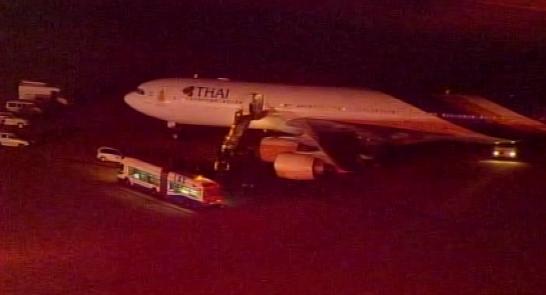 The Transportation Security Administration (TSA) issued a statement Tuesday night and an investigation was underway because of "a threatening message" that was written on a lavatory mirror on board Thai Airways flight 794 from Bangkok (BKK) to Los Angeles (LAX).
The plane landed safely at 8:48 p.m. PT and taxied to a remote location where it was met by law enforcement. Passengers were taken by bus to a terminal and rescreened, according to the TSA.
Los Angeles Airport Police issued their own statement noting at "7:15 p.m.law enforcement and Los Angeles Airport officials were notified of an alleged threat on board an aircraft scheduled to land at LAX at 8:44 p.m.
Local
Local news from across Southern California
"The incident is being investigated and notifications have been made to all appropriate agencies, including the FBI. Law enforcement is taking all necessary precautions to ensure the safety of the passengers and crew, and will conduct an investigation to ascertain the person or group responsible for making the threat," police stated.
Los Angeles City Fire Department dispatched 18 fire trucks and fire engines to Los Angeles International Airport as a precaution. Around 9:50 p.m. the fire department was starting to release fire crews. But it did appear TSA was still conducting its investigation.
Thai Airways president Piyasvasti Amranand told The Associated Press that the message -- written in English with bad grammar -- warned that a bomb was on the plane.

"This must have caused some nuisance to the passengers," he said by phone from Singapore. "It sounds like it was done by a crazy person."