An Orange County Superior Court judge Friday refused to separate the cases of two former Fullerton police officers charged in the in-custody beating death of schizophrenic transient Kelly Thomas and set an Oct. 18 trial date.
Former Fullerton police Cpl. Jay Cicinelli wanted to have his trial separately from co-defendant former Officer Manuel Anthony Ramos, but Orange County Superior Court Judge William Froeberg's ruling means a jury will consider both of their cases at the same time.
The Kelly Thomas Case: Full Coverage | Timeline
Another co-defendant, former Officer Joe Wolfe, has a motion to dismiss charges pending before Froeberg that is scheduled to be heard July 12.
In January, Froeberg declined to dismiss charges against Ramos, who is charged with second-degree murder and involuntary manslaughter in the July 5, 2011, beating, pictured below in bus depot surveillance footage. On March 7, an appeals court panel denied Ramos' appeal.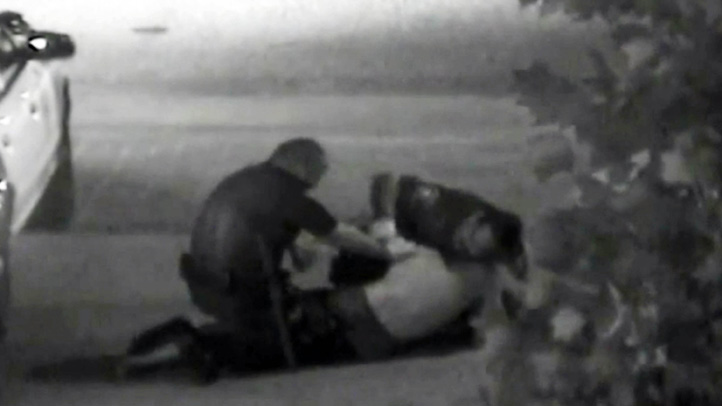 Cicinelli is charged with involuntary manslaughter and excessive force.
Local
Local news from across Southern California
The dismissal motion revolved around an allegation that Ramos held up his fists to Thomas, threatening to "(expletive) him up," which Orange County District Attorney Tony Rackauckas said frightened Thomas, prompting him to run away from the officers and triggering the deadly conflict.
Rackauckas said Thomas had a right to defend himself, and that he appeared confused and flustered by Ramos' commands.
Ramos' attorney, John Barnett, however, argued that Ramos told Thomas he would only carry out his threat if Thomas failed to obey his instructions. Barnett argued it was akin to a police officer saying, "Stop, or I'll shoot," to a suspect.
Under the prosecution's legal theory, if an officer shouted a similar order at a car thief and the suspect turned and ran, causing a school bus full of 30 children to roll over, killing all of the passengers, the officer would be held liable for their deaths, Barnett said after Froeberg's ruling.
Froeberg, however, ruled the videotape of Thomas' beating was sufficient evidence to go forward with a trial.
It is likely Wolfe will be tried separately since his indictment came a year after charges were filed against the other co-defendants.
Police went to the Fullerton Transportation Center in response to a 911 call from the nearby Slidebar nightclub that someone was trying to break into cars outside the club. Investigators have determined Thomas was not trying to break into cars.
Wolfe and Ramos confronted Thomas at the transportation center. While Wolfe went through a backpack Thomas had with him, Ramos and Thomas engaged in a lengthy, often sarcastic and prickly, exchange.
Wolfe found letters in the backpack addressed to an attorney, prompting him and Ramos to discuss arresting Thomas for possession of stolen property. Investigators later determined the letters were not stolen.
Thomas ran from the officers after Ramos held his fists up to him and ordered him to follow his instructions, officials said. That touched off the skirmish that ultimately included six officers as they worked to restrain Thomas.
Ramos faces a potential sentence of 15 years to life if convicted of second-degree murder but only four years if convicted of involuntary manslaughter. Cicinelli and Wolfe face a maximum sentence of four years in prison, if found guilty.