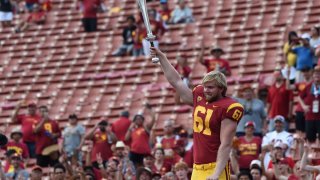 It's a stifling 98 degrees inside the Los Angeles Memorial Coliseum on Saturday afternoon and with barely three minutes left to go in the game, most of the overheated crowd has already headed home for the comforts of their air conditioners.
For the many thousand Trojans fans that stayed however, they saw something on the football field they may never see again. They saw something that only happens in the movies. They saw something that Jake Olson never will.
It was eight years ago that Olson, then a fun-loving 12-year-old kid, was told he had retinoblastoma, a rare form of eye cancer that would cost him his vision.
When Olson was 10 months old, he lost his left eye. Twelve years later, doctors told him he would have to lose his right eye as well.
Local
Local news from across Southern California
Needless to say, Olson was heartbroken and depressed at the prospect of facing the rest of his life in the dark. When his parents, Brian and Cindy, asked him what he wanted to do the night before the surgery that would leave him completely blind, he knew there was only one thing he wanted to see before that gift we all take for granted would be gone:
He wanted to watch a USC Trojans football practice.
Then Trojans head coach Pete Carroll heard about Olson's plight and made him an honorary part of the team during the tail end of their decade-long dominance atop the college football world.
After his experience on the USC sidelines during Carroll's final season, Olson made the decision that, despite his disability, he would play football.
After navigating the world of the blind for his freshman and sophomore year of high school at Orange Lutheran, Olson discovered the role of long snapper, a position on the gridiron that despite his lack of sight, he could still play without putting himself in too much peril.
So Olson practiced on his own, and was able to join the varsity team by his junior year where he regularly snapped for extra points and field goals.
Olson believed that the end of high school would also mark end of his football career. However, he received a scholarship in 2015 for physically challenged athletes and enrolled in USC that fall.
"I always wanted to go to USC," Olson said. "When I got accepted, Pat Haden at the time said, 'Why don't you be on the team as a long snapper?'"
He regularly worked out with the football team, but it wasn't until Steve Sarkissian became the coach that year, that the idea of playing for the team came to fruition. The only hard part was convincing his coaches and teammates to put him into an actual game.
"Once I got that opportunity I wanted to prove that I could get into a game and snap and earn some playing time," said Olson.
*****
It's Thursday evening, less than 48 hours before the Trojans season opener, and a tired and sleepless coach Clay Helton is on the phone with Western Michigan head coach, Tim Lester, USC's opponent on Saturday.
Rarely do two opposing coaches speak so close to kickoff, but Helton was on the horn to ask for coach Lester's help, and to offer him a unique deal that could be used as a learning tool for both teams.
Helton explained to Lester that he had a blind long snapper on his team, and that he would like to get him on the field at some point during the game. In order to ensure Olson's safety on the field, he needed Western Michigan to be aware of this sensitive situation.
So Helton offered a trade: The Trojans would not rush the Broncos' first extra-point attempt of the game as long as coach Lester promised to not rush Olson's extra-point attempt when the moment called for it.
"Coach Helton told me what the kid meant to the team," Lester told reporters during his postgame press conference. "I told him we'd be happy to be a part of it."
After a 16-yard touchdown scamper by Ronald Jones put the Trojans ahead 7-0, just two minutes into the game, the Broncos would answer with a score of their own when junior tailback Jamauri Bogan found a hole and rushed up the middle for the first Western Michigan touchdown of the game.
Sure enough, true to his word, Coach Helton and the USC Trojans did not rush the extra-point attempt.
"They didn't rush our first extra point," noticed Lester during the game. "They actually played a Cover 2 defense on the kick. That was the setup."
For the better part of three hours as the dehydrated players on both teams took turns trading knockout punches, the No. 4 ranked Trojans finally put the game away with an interception return for a touchdown by Marvell Tell III that gave USC a 48-31 lead.
That's when Coach Helton decided to take a timeout, turn to Olson, and call his number.
Led onto the field by holder Wyatt Schmidt, Olson lined up over the ball and crouched down into his long snapping position. The referee put his hand on Olson and then took it off to let him know the clock had started.
"Wyatt told me to put my hands on the ball and then he called the cadence right away," Olson recalled of the moment that he made his first snap as a collegiate football player. "There wasn't much time to think about anything. As soon as the ref backed up it was go time."
Olson delivered a perfect snap to Schmidt who held the football in place before it sailed straight through the uprights by kicker Chase McGrath seconds later. The notorious USC Trojans marching band, aware of the situation, immediately erupted into the team's fight song, as did the fans in attendance who cheered Olson's moment with a standing ovation.
"There's a lot of trust," Olson said about the play itself. "The whole game is about trust, but especially that play. I loved being out there. It was an awesome feeling, something that I'll remember forever. I just can't quite believe it yet."
Aware of the magnitude of the moment, his coach was more focused on the execution of it all.
"What a pressure player," said Helton, smiling from ear-to-ear. "Was that not a perfect snap in that moment? It was beyond words."
*****
There are moments in sports that we will remember forever:
Desert Chapel High School handing the ball over to their opponent, Beau Howell, an autistic high school basketball player who had never played in a competitive game before that moment.

The high school cross country runner who helped carry her opponent over the finish line after she fell to the ground.

Softball player Chelsea Oglevie who literally carried her opponent, Kara Oberer around the bases after she hit a home run and her knee buckled rounding first.

These truly courageous examples of sportsmanship will last forever, and now Jake Olson joins them in the pantheon of sports heartwarming moments.
"To have a situation where a 12-year-old kid is losing his sight and is going to have to face the rest of his life without seeing, to take a situation that ugly and then to fast forward eight years and to have that same kid be able to snap on the football field for the team that got him through that time is beautiful and special," said Olson.
In 2009, after a USC victory, as tradition had called for, Carroll asked Olson to climb up the ladder and lead the USC band.
Eight years later, on the exact same field where he stood as a suddenly blind 12-year-old boy, Olson once again climbed the ladder, held the sword of Tommy Trojan up high, and led the USC marching band. His dream achieved, his journey had finally come full circle.
"There's a beauty in it and if you can't see how God works things out, then I think you're the blind one," said Olson. "I'm honored that I was part of God's plan in that way, in getting me out here and inspiring thousands of people through this whole experience."
Watch the video below for Jake Olson's first ever snap as a football player at USC: