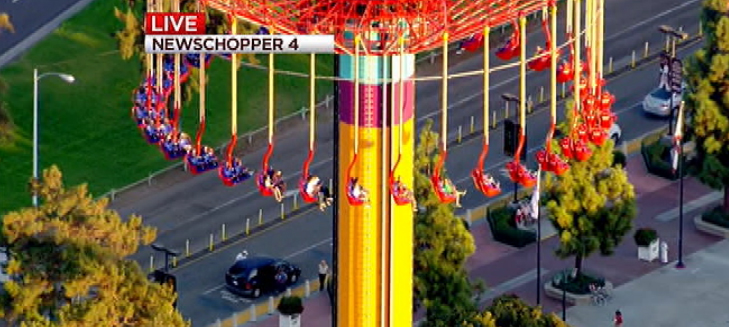 A year ago, the WindSeeker ride at Knott's Berry Farm drew unwanted attention when it suddenly stopped moving.
A year later it's moving again, but this time the move is halfway across the country.
The ride will soon be dismantled and shipped off to the Worlds of Fun Amusement Park in Kansas City.
Local
Local news from across Southern California
A thrill ride in which passengers are lifted high into the air and spun around, swinging carousel-style, the WindSeeker malfunctioned in September 2012. Its brake froze, according to an OSHA report, stranding 20 riders.
For four hours, they dangled 300 feet above the ground until workers were able to hand crank the riders to the ground. No one was hurt, but the malfunction put the ride and its manufacturer under scrutiny.
The NBC4 I-Team uncovered a history of problems with the ride, made by the Dutch company Mondial Rides of the Netherlands. Riders had been stranded on the same ride at amusement parks in North Carolina, Ohio, and Ontario, Canada.
After the September 2012 malfunction, WindSeekers nationwide were shuttered pending an investigation into the chronic breakdowns.

Spokespersons at Knott's said they don't yet have a definite date when dismantling of the ride would begin, but said it would open up next year at Worlds of Fun as the Steelhawk.
They said a new safety system is in place to exit passengers should the ride encounter any future problems.
More Southern California Stories: