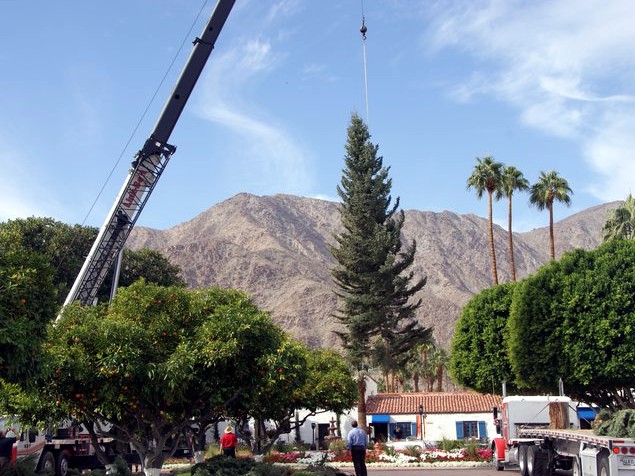 QUITE A SIGHT: Sometimes a picture can catch you. The snapshot above, posted by La Quinta Resort & Club, did that for us. We were just talking about the Thanksgiving welcome the hotel is putting on the day before the holiday. Talking? Okay. We were obsessing over cider, but we'll do that. But the cider may have to stand aside now that we've seen the tree the resort will be lighting on Saturday, Nov. 27.
WHAT GETS US... The palm trees juxtaposed with the giant from the mountains. Plus, the orange trees, and bright flowers below, and general desert-y vibe all around, save the tallest thing in the photo. It's striking as all, so we wanted to pass along.
CAPRA CHRISTMAS: Oh, and we should most definitely add that some very special guests will be at the Nov. 27 ceremony, including Karolyn Grimes, who played little Zuzu in "It's a Wonderful Life," and Frank Capra III, Frank Capra's grandson. Mr. Capra wrote "It's a Wonderful Life," and if you're a "Wonderful" buff, and a La Quinta fan, you know that the writer-director wrote many of his films on the property. Classic Hollywood meets Christmas merriment.
Copyright FREEL - NBC Local Media