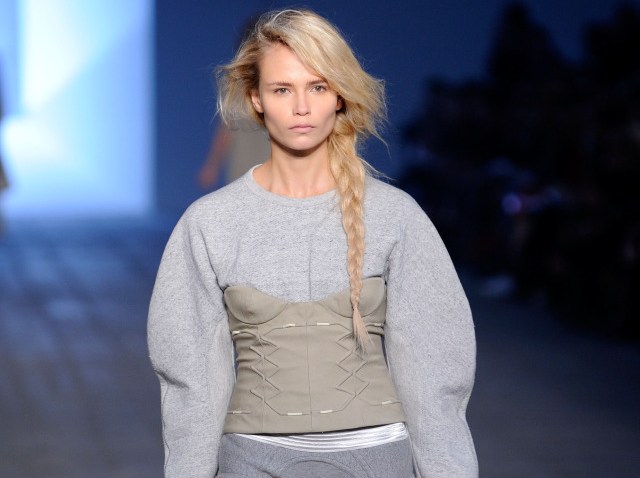 Undoubtedly the most buzzed-about and packed show of the fashion week calendar so far, Wang's new collection definitely offered some inventive new elements -- re-imagined school girls in letter jackets and knee-hgihs -- as well as the black-and-mesh look that has become his mainstay.
The front row was a veritable roster of Vogue's heavy-hitters -- Sally Singer, Tonne Goodman, Anna Wintour -- and in a surprise turn, starlet Rachel McAdams was bang in the middle of them.
When the collection first started, it really did seem like the designer had wholly reinvented himself: soft grays and neutral hues were strongly represented, and the looks ran the gamut from strong-shouldered sweat shirts worthy of a line-backer to preppy red-and-white striped shirts paired with knee-highs. But as the collection continued, the '90s sexiness that made Wang a superstar worked their way back into the collection in shorter-than-short tight miniskirts, boxy vests and jackets, and black, black, black.
Now, we know Wang is a retail phenomenon -- his bags and shoes sold out in mere hours in some boutiques, and from the look of the accessories for Spring 2010, we'll be lining up with them for those leopard-print heels (and futuristic shades) -- but we have to admit that there were a lot of things that, well, we wouldn't buy EVER. Mesh transparent long button-downs? Romance novel-inspired lace-up closures on black leather shorts? Um, no.
U.S. & World
News from around the country and around the globe
Maybe this is Wang's way of reaching for an aesthetic that transcends retail -- a designer famous for selling out making an attempt at something more like art that commercialism. Either way, the diverse runway and sheer inventiveness on display last night ensure Wang will be ranked among fashion's heavy-hitters for yet another season.