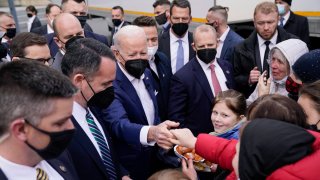 President Joe Biden on Saturday spent time with Ukrainian refugees in Poland as he wrapped up his four-day visit to Europe, marveling at the spirit of their resolve in the aftermath of Russia's invasion of their homeland.
The president listened intently to young Ukrainian children tell them about their parents. He picked up a young Ukrainian girl in a pink coat, smiling broadly and telling her she reminded him of his own granddaughters.
He also held hands and gave hugs to their parents, as he heard their stories during a visit to a stadium in Warsaw where Ukrainian refugees go to obtain a Polish identification number that gives them access to social services such as health care and schools.
Some of the women and children told Biden that they fled for Poland without their husbands and fathers, men of fighting age that were required to remain behind to assist in the fight against Russian forces.
"What I am always surprised by is the depth and strength of the human spirit," Biden told reporters after his conversations. "Each one of those children said something to the effect of 'Say a prayer for my dad or grandfather or my brother.'"
This is a live update. Click here for complete coverage of the crisis in Ukraine.
Copyright AP - Associated Press