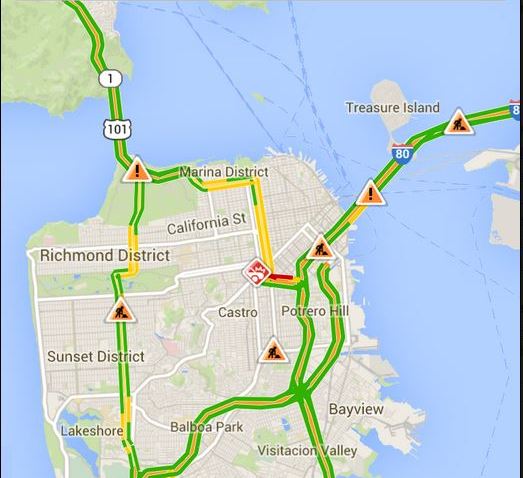 Google showed off its $1.3 billion social-mapping acquisition on Google Maps today.
Google introduced the first mash-up of the startup Waze and Google Maps for mobile on both iOS and Android which will show construction, road closures and collisions reported by Waze users, according to AllThingsD. Google bought the Israel-based startup after Facebook reportedly lost interest when Waze founders wanted to keep their headquarters in Tel Aviv. (Despite this, Waze still has an office in Palo Alto.)
Brian McClendon, vice president of Google Maps, told AllThingsD that the integration would have a "big impact" on Google Maps users. Waze users won't be credited by name for their reports, but McClendon offered them exposure to more people. Currently, the U.S. Federal Trade Commission is
reviewing the acquisition
in case Google has gained an unfair advantage in the market place, but McClendon said the probe had no bearing on the map integration.
U.S. & World
News from around the country and around the globe
Waze users hail from South America, Europe and the U.S., so there will be plenty of information. And, apparently, plenty of local ads, McClendon said. "It's early days for local advertising and I think we both have good ideas, and right now lots of experiments," he shared.
Google is expected to fully integrated Waze into its mobile Google Maps, but likely that will be coming in the next year. But will Google make its users self-appointed traffic reporters, too, or simply rely on the Waze community which may feel little loyalty to Google? For this experiment to work, it would seem that Google would need its users to be just as invested in reporting road closures and collisions to make the integration succeed.