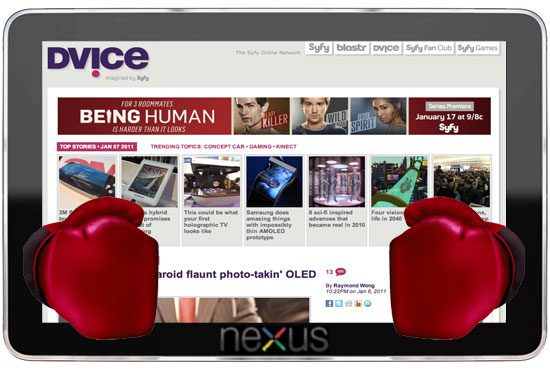 The saying goes "If you need it done right, do it yourself." With the iPad making headlines all this week, Google's new line of defense to grab a stake in the tablet market might be to attack the low-end. Rumor has it that Google is partnering with Asus for a tablet that'll cost half as much as an iPad.
DigiTimes is back with another piece of intel that states Asus will build a 7-inch co-branded tablet PC with Google for release in possibly May.
The report claims that the Google/Asus tablet will cost between $200 and $250 — putting it in Amazon Kindle Fire and Nook Tablet sights. DigiTimes also states that the tablet will be the first shipped device to use the newly rebranded Google Play Store.
U.S. & World
News from around the country and around the globe
A partnership with Asus for a $250 tablet doesn't seem to bad. Anybody's who's done their homework knows that Asus is king of the low-end. After all, this is the company that birthed the cheap netbook category with its EeePC a few years ago.
It could also be the case that Asus is merely tweaking the 7-inch MeMO tablet it showed off at CES 2012 for Google's liking as the tablet is already quite capable with Android 4.0.3 ICS, Nvidia Tegra 3 quad-core processor, 1GB of ram and dual-cameras.
Again, take these rumors with a grain of salt as previous rumors put LG as the builder of a "Nexus tablet."
One thing is for sure, now that the iPad 2 is only $400, the entire tablet industry is scrambling once again to compete.
DigiTimes, via Pocket-lint
Copyright DVICE - DVICE