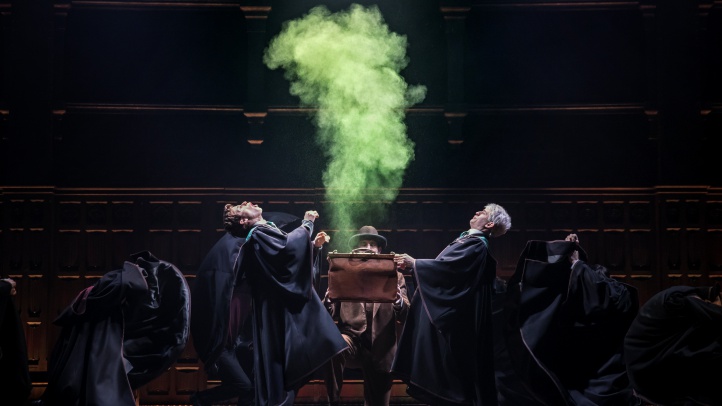 STEPPING INSIDE A MAGICAL WORLD? Specifically the world of wizards, as realized by author J.K. Rowling? There are ways to enter such an enchanted place. You can pick up your favorite Harry Potter book, and reread it for the 17th time. You can call upon a place like The Wizarding World of Harry Potter, at Universal Studios Hollywood, where you can shop for wands and sip Butterbeer. And now, for the very first time, at least on the West Coast, you can experience "Harry Potter and the Cursed Child," the stage spectacular penned by Jack Thorne, which is based upon a story written by J.K. Rowling, Jack Thorne, and John Tiffany. It's an experience that has materialized, with magic, mystery, and spells galore, on stages from...
LONDON TO NEW YORK, with San Francisco the next spot in the ensorcelled sequence. Performances begin on Oct. 23, but if you'd like to await opening night, that's flying this way on its very speedy broomstick (Dec. 1 is the date). As for what fans can expect from the show? If you've been covering your crystal ball, in an effort to avoid seeing any spoilers, then do step away for one moment. But surely you probably know what everyone knows: The adventure takes place years after the final Harry Potter book has concluded, with the children of some of the beloved characters in the thrilling center of the time-traveling action.
TICKETS ARE AVAILABLE... now, for the production, which has brought its Time-Turner and other Magical Arts materials to the Curran Theater. If you'd like to gaze into the future, and find out when the show will conclude, you only need look upon June 2020. Tickets? They begin at $59, and there's a Friday Forty deal, which involves the release of 40 tickets, for the following week, at a substantial discount. The seats? They're good, magical even. Whenever you go, best accio your ticket at once.
U.S. & World
News from around the country and around the globe
Universal Studios and NBC-owned TV stations operate under the same parent company NBCUniversal.
Copyright F