It's going to be a busy holiday weekend on the nation's highways.
A record 43 million Americans are expected to travel this Independence Day weekend, with the overwhelming majority driving, according to AAA, a car lobbying group and one of the nation's largest travel agencies. This tops the joint record set last year and in 2007.
Lower gas prices, strong consumer confidence and a generally healthy domestic economy have led more families to take trips this summer.
AAA estimates that U.S. drivers have saved $20 billion on gasoline so far this year compared to the same period last year. Gas prices as of June 20 were 46 cents per gallon below prices from a year ago.
[NATL] Top News Photos: Pope Visits Japan, and More
"We are well on our way for 2016 to be a record-breaking year for summertime travel," said AAA President and CEO Marshall Doney.
Ahead of last year's holiday, AAA predicted that 41.9 million people would travel 50 miles or more from home during the weekend. AAA has since revised that number to say that 42.3 million people actually traveled. This year's estimate — the highest since AAA started tracking in 2001 — is for 42.9 million travelers with 84 percent of them driving.
U.S. & World
News from around the country and around the globe
The holiday travel period is defined as Thursday, June 30 to Monday, July 4.
The number of travelers is estimated to be 10.7 percent higher than the average number during the past 15 years.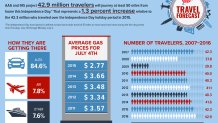 Copyright AP - Associated Press