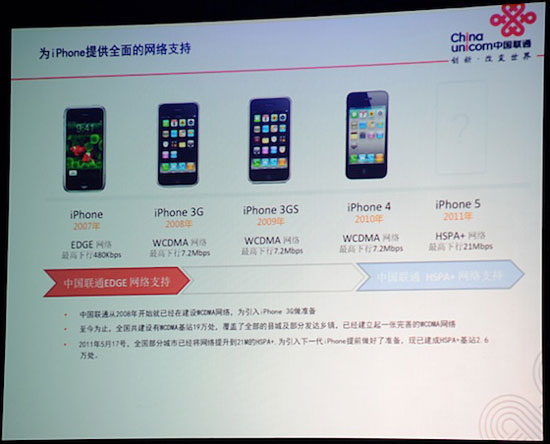 Fact: smartphones capable of 4G data speeds are battery leeches. All iPhones up until now have been 3G smartphones. It's now rumored that the iPhone 5 will sport faux 4G speeds. Did Apple solve the battery conundrum? Not exactly.
According to the credible Japanese blog Macotakara, a China Unicom exec has reportedly revealed in a presentation that the iPhone 5 will have pseudo 4G speeds when it launches.
The trend in the U.S. right now is to call any data speed that's faster than 3G "4G." In essence, HSPA+ technology which is basically a supercharged version of 3G capable of a theoretical 21Mbps is really like 3G+ — not quite as fast as LTE 4G which can theoretically hit download speeds of 1Gbps.
U.S. & World
News from around the country and around the globe
In short, AT&T and T-Mobile both advertise its HSPA+ speeds as "4G." Meanwhile Sprint and Verizon are the only real carriers with real 4G networks.
If the slide is to believed, then the iPhone 5 will be marketed as 4G-ready. Just don't believe the marketing crap, because it's not real real 4G.
HSPA+ won't suck your battery life as much, which is a good thing and it's still plenty fast for streaming videos and stuff, but if you're locked into AT&T's 2GB per month data plan, you'll be burning it up so fast it won't even matter. As for the iPhone 5 hitting T-Mobile? Well, that's not happening.
Macotakara, via MacRumors
Copyright DVICE - DVICE