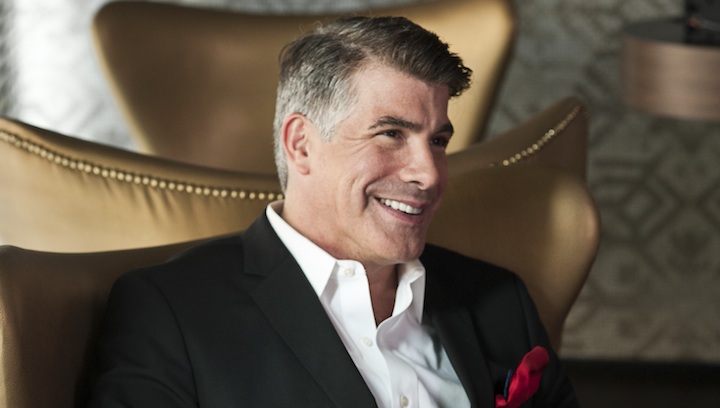 The wait is finally over, this Sunday "Mad Men" returns to AMC for its fifth season. Does Don actually get married? Will Peggy find a husband? Will Roger find out he's a father? Burning questions we all want answered. One of the series' most memorable characters, Salvatore Romano, may have been fired from the agency, but for actor Bryan Batt, the show was just one stop in his notable career. From Broadway and film to opening his own home accessories shop Hazelnut, Bryan brings his unique style everywhere he goes. We caught up with the New Orleans native to talk about his new book "Big, Easy Style," how to properly stock a bar, and of course "Mad Men."



OH: I must say I'm a huge fan of yours. I love "Mad Men," I'm a big fan of the show but also of your character in particular.

Bryan: Thank you. Everywhere I go people are coming up to me and saying how much they love Salvatore and how much they love the show. It's really reassuring.

OH: In your new book "Big Easy Style," you start off talking about color and you write, "don't be afraid of color." As a New Orleans native, did New Orleans and the colors of New Orleans influence your aesthetic?

Bryan: Yes. New Orleans is a very vibrant city, a very eclectic city. It's like New York in a way because it's a great mix and great melting pot. I like to call it a big bowl of gumbo because there's a lot of cultural influences here and there's a lot of color everywhere you look. Mardi Gras is just an explosion of color and with all the different festivals down here—it's a very lush and tropical climate, so it lends itself to this Caribbean influence. There's some Haitian influence. There's a lot of French, a lot of Spanish, African Influences--it's just a great mix.

OH: And your book is filled with images of amazing interiors and the use of color appears in the floors, the ceilings--bright colors that you might not think go together. Do you have any tips for our viewers and readers about color and how they can use it?

Bryan: You should never paint any room in your house a color that you do not look good in. Your home is also your backdrop and your set, so you want to look good in it. Color is such a personal choice. When I fall in love with a color and go with a color, I want to go full throttle. So if you like a color, go with it. And, I cant stress it enough--get the little samples and paint a nice size swatch on the wall. Look at it in all different kinds of light because it is going to change with daylight, with incandescent light, with candlelight, it's going to change. Definitely do the color test.

OH: Your book is a little different than maybe your average design book. You have a list of stores that you love, drink recipes, and favorite colors. Who are you writing to?

Bryan: It's for people who love design, but are maybe a little timid or intimidated by designing their home. I am all for hiring a great designer, but for many people that's not an option. I wanted to give people the "go ahead " and the confidence to decorate their home and enjoy it, because I don't care what your budget is or how big your home is--everyone deserves a beautiful surrounding to live in. Whether it's a tiny, tiny budget or a great big lavish, extravagant budget, you have to make do.

OH: Perfect, so a lot of people know you from "Mad Men" and a lot of people have followed your Broadway career and you have a boutique "Hazelnut." How did you make that transition?

Bryan: When I started putting up drapes in my tree house, I knew I liked designing. I was in seventh grade and my parents were building their dream home, and I fell in love with it. I would accompany them on all the meetings, buying trips and interviews with designers. I would go to antique stores for fun. I think it was just a natural identity. I also fell in love with acting. As my acting took off and I was just about to start some classes in New York, I got my first Broadway show. I was trying to do both, but acting just took off. I always had my fingers and toes in designing apartments with friends on the side, but with my schedule, it was very hard to make it work.

Hazelnut was something my partner Tom and I wanted to do for years. He had managed some beautiful boutiques on Madison Avenue, and with the encouragement of his "then" bosses—and, I had these months when I had no job lined up--this window of opportunity opened up and we decided to open the store. We found the perfect location and we really wanted to do it in New Orleans mainly because New York is so wonderfully saturated with great shopping and great boutiques. We wanted to go somewhere that wasn't really represented.

OH: So in your book you say that you love and worship adult libation stations, I'm with you on that one! What are the essentials to stock a home bar?

Bryan: Well, you definitely need basic alcohol; you need to have good vodka, good scotch, rum, bourbon, gin and a muddler. Everyone needs a great set of martini glasses or cocktail or Manhattan glasses. You also need a double old-fashioned, a rock glass, and definitely some great wine glasses. It can be as grand as you want or a place to have a little sense of humor and a little hitch factor. And some crazy bottles can really reflect you personality or what you're into. It can be sleek, a great deco bar you might find in Cary Grant's apartment. Or, it can be some fun over-the-top fifties, retro look, kind of a "Mad Men" bar--you can do anything you want.

OH: I have to ask with the premier of "Mad Men" this weekend, can we expect anything from Salvatore on the show?

Bryan: I have no idea! They've only told me that I'm not dead--that's all I know. It's crazy… everywhere I go people ask me when I'm coming back or if I'm coming back. I have no information. I wish I did.

OH: Yeah, absolutely. Well Bryan, congratulations on the book, and with the continued success of "Mad Men" and your Broadway career. Thank you for taking the time to talk to us.

Bryan: No problem. Thank you too!


Copyright LXTVN - LXTV