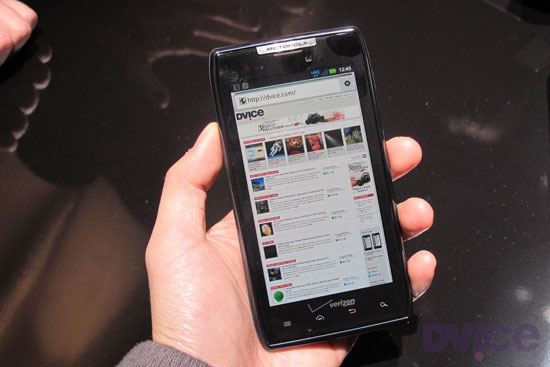 "Thinner. Stronger. Faster. Smarter." Those are the merits that Motorola's CEO Sanjay Jha touted when unveiling the new Droid RAZR smartphone. With a powerful 1.2GHz dual-core processor, 1GB of RAM, a bright and sharp qHD resolution screen, 4G LTE data speed — all in laser-cut woven Kevlar fiber body — the Droid RAZR is not only slick, but powerful.
And sexy.
The last time the RAZR brand was used it was for the world's best-selling and thinnest cellphone — pre-iPhone. That was in 2007. Motorola's since managed to wrestle some marketshare back from Apple, Samsung and BlackBerry with its line of Android-powered DROID smartphones on Verizon. All was going well until Apple dropped its iPhone 4 on Verizon earlier this year.
U.S. & World
News from around the country and around the globe
With the Droid RAZR, Motorola's taking Big Red back.
Incredibly Thin and Strong
The entire essence of the original RAZR cellphone was its sheer thinness. We're happy to report that the Droid RAZR is a worthy heir to the brand. At 7.1mm thick, the Droid RAZR is the world's thinnest smartphone, besting the likes of Samsung's 8.5mm Galaxy S II and Apple's 9.3mm iPhone 4S.
The back looks like carbon fiber, but it's not — it's laser-cut woven Kevlar. The entire core of the Droid RAZR is made of pure stainless steel. Motorola says it'll have no problem passing the "back pocket test." We tried bending the phone and there really is no flex to it. This is one strong smartphone.
As if that isn't enough, Motorola even says the phone is has a "splash-guard" that'll keep it working even in wet weather. That's fine and all, but the Droid RAZR's screen is also extremely prone to smudges, something we think is way worse than getting a few raindrops on the screen.
Huge Screen Vibrant Screen
Really, the center of any modern smartphone is not only it's design, but it's touchscreen.
The Droid RAZR packs a 4.3-inch Super AMOLED Advanced screen cut from Corning's Gorilla Glass. That means it's scratch resistant and very durable. Check out this video of Samsung's Galaxy S II with Gorilla Glass v.s. the iPhone's chemically strengthened screen to become a Corning believer.
With a qHD (960x540) resolution screen, text, photos and videos look amazing. It's not quite as dense as the iPhone 4S's Retina Display, but the extra inch in screen size really makes a big difference.
Dual-core Processors and HD Cameras
Nope, the Droid RAZR isn't running the upcoming Android 4.0 Ice Cream Sandwich — it's only Gingerbread — but the device still felt relatively zippy thanks to its dual-core 1.2GHz processor and 1GB of RAM. Transitions between screens, opening apps, loading photos/videos and opening music opened up without much difficulty.
On the back is an 8-megapixel 1080p HD video camera and on the front a 1.3-megapixel camera capable of 720p HD video chat. The demo units indicate that shooting with it will be fast, but we'll reserve judgement when we get a longer hands-on time. We just hope Skype looks amazing with the front cam.
Another big feature that Motorola was eager to share with is the Droid RAZR's Smart Actions function — optimized software that automatically switches certain tasks off like Bluetooth and GPS at unneeded times in order to increase battery life.
Motorola says with Smart Actions turned on, the Droid RAZR can provide up to 30 percent better battery life than its competitors. Jha took a dig a the Samsung Droid Charge, claiming the Droid RAZR can best it's 6.5 hours of talk time with 12.5 hours.
Fast 4G LTE Data Speeds
Verizon didn't provide any concrete details on when the RAZR would be available, only that it'll be released in November for $300 with a two-year contract. It'll utilize Verizon's latest 4G LTE speed network for the fastest downloads, too. The Droid RAZR comes with 16GB of onboard storage and a 16GB microSD card (expandable to 64GB with 32GB card).
4G LTE is important. It's fast, but it's also a battery hog. That's probably where the optimized Smart Actions comes into play. We tested a quick stream of Tron: Legacy from Netflix over 4G LTE (the first smartphone to do so) and the stream is not too bad. It's not perfect (there's a lot of pixelation from buffering times), but it gets better after a few minutes.
It's important to note that 4G LTE isn't available everywhere yet, so you should check up if it's available in your area before dropping the big bucks on a Droid RAZR. If it's not, it might be on its way. Verizon is flipping the switch on 4G LTE in another 178 U.S. cities by the end of this year and hopes to have the entire country covered with 4G LTE by 2013.
Copyright DVICE - DVICE