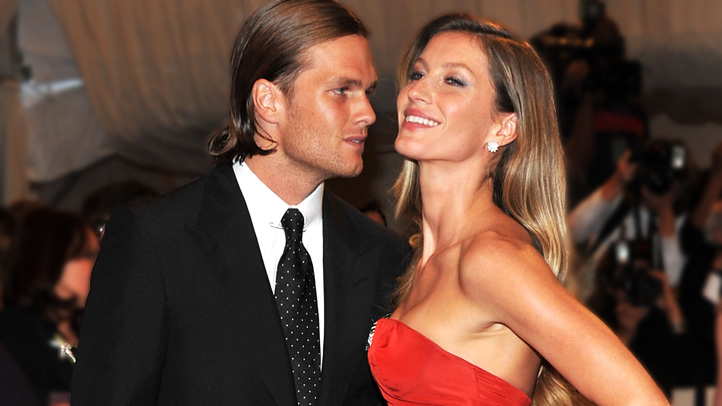 The Super Bowl has become, as we all know, one big spectacle. And all spectacles have costumes. So what's everyone wearing this year?
The Uniforms
For Super Bowl XLVI, the Patriots will be wearing their blue uniforms, while the Giants will be in their on-the-road whites. Adding fuel to all that "rematch" talk, the teams' colors will be exactly the same as they were when the two teams faced off at the Super Bowl back in 2008.
U.S. & World
News from around the country and around the globe
You should know that the Patriots have gone through several uniform changes over the decades -- phasing out a bright red uniform and a logo that featured a tri-corner hat, for example -- before eventually settling into a darker blue and the iconic Patriot swoosh logo featured on their helmets. That doesn't mean the Pats can't get nostalgic: The team wore throwback red uniforms in late 2011 for a home game against the Jets.
The New York Giants, on the other hand, have had almost the exact same uniform -- especially the dark blue home jerseys -- since the origins of the franchise. And those uniforms get special care, courtesy Park Cleaners in Rutherford, N.J., where the Barone family has served as team tailor for 30 years.
Unfortunately for the players, they won't be getting to wear any of the sassy new cleats and gloves that Nike recently unveiled -- those are just for the NFL Pro Bowl this season.
The Fans
For those lucky enough to attend the Super Bowl, Patriot fans should be in blue and Giants fans should be in white. The bandwagon fans will likely be the ones in freshly-bought jerseys and caps, as opposed to pieces weathered by months of wear and superstition. The most popular jerseys will undoubtedly be those of those of the quarterbacks, though here's one place where Tom Brady might have an advantage: According to a CNBC report highlighting the 10 best-selling NFL jerseys, Eli Manning came in at number eight, while Tom Brady out-sold to come in at number five.

It's likely, too, that some Patriots fans will be sporting T-shirts that read "Gronklings," a tribute to tight end Rob Gronkowski that's also a play on the Boston classic, "Make Way for Ducklings."
What you don't want to show up in at the game or your local party is counterfeit goods. U.S. Immigration and Customs Enforcement reports they have seized 42,692 items of fake Super Bowl-related items worth $4.8 million so far. Consumers are warned to buy from reputable vendors and ensure items are good quality -- misspellings should be a tip-off -- and have the holographic sticker that denotes licensed goods.
The Quarterbacks
Off the field, both Eli Manning and Tom Brady certainly have their differences from a style perspective, even though both were at one point highlighted by Men's Vogue. Tom Brady is married to a supermodel and attends high-fashion events like the Met's Costume Institute Gala looking like this, but did go through that unfortunate long-hair spell and was got some criticism for an Uggs advertisement.
Eli Manning, on the other hand, is a bit less sartorially-inclined. To be sure, he knows how to rock a suit, but more often he rocks a pair of khakis.
According to Esquire, Brady beats Manning in terms of dressing with a score of 9 to 5.5.
The Superstitions
Lots of fans will be wearing lucky jerseys and lucky socks -- one Giants fan even wrote recently about a (pretty hideous) lucky hat -- but, as it turns out, some of the players have their own superstitions. Patriots star receiver Wes Welker, for example, is growing out his mustache for the big game.
At a recent press conference, he explained: "Somebody on Twitter told me, 'Every time you've gone with the mustache, we haven't lost a game,' and I was like, 'You're right. It's time for a playoff 'stache' ... This has kind of been the deal, and it's kind of gotten us to this point, so we're going to keep on rocking it."
Now, it seems, Walker's 'stache has inspired its own movement: The Patriots and Welker have teamed up with Gillette on a "Wear It Like Wes" campaign, encouraging print off their very own Welker-inspired mustaches on Facebook. What's more, the Patriots will be handing out 10,000 adhesive mustaches on Sunday.
So, there's that.
The Cheerleaders
The Giants don't have a cheerleading squad. Co-owner John Mara once told The New York Times, "Philosophically we have always had issues with sending scantily clad women out on the field to entertain our fans."
The Patriots, on the other hand, have what some consider to be the best cheerleaders in the nation. As such, we can probably look forward to the squad on their most eye-catching blue-and-white ensembles to make the most of their moment in the spotlight.
The Performers
Finally, we need to point out that if this isn't enough style for you already, this year's performers are likely to take care of that.
We don't expect too much from Kelly Clarkson style-wise as she sings the national anthem -- she's perfectly lovely, but not a real trend-setter.
But Madonna, Nicki Minaj and M.I.A. on one stage at halftime? Where ever will we focus our gaze? Madonna has decades of head-turning ensembles to her credit. Nicki Minaj favors pink hair and cleavage, and also manages to look equally convincing in Oscar de la Renta or a wig that makes her look like a palm tree. And M.I.A., please wear something as talk-worthy as this dress from the 2009 Grammys again.
The Super Bowl kicks off at 6:30 p.m. Sunday Feb. 5 on NBC.