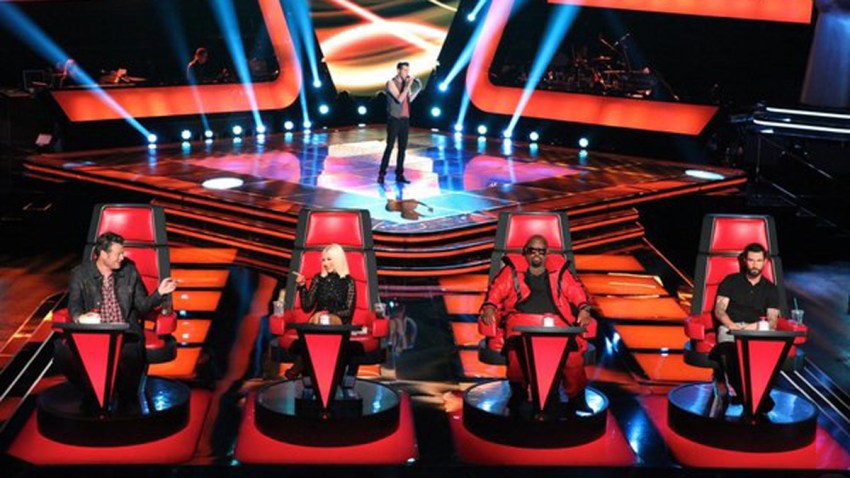 "The Voice" kicked off its fifth season Monday night with a roar, and a reminder that with just the start of a new season and the press of a button, a team's fortunes can change dramatically.

It was also a reminder of the chemistry the four original "Voice" coaches had forged during their three seasons together, before Christina Aguilera and Cee-lo sat out season four to let Shakira and Usher fill in.

"The whole gang's back," Adam Levine observed. "We're like The Beatles, but better."

That second part is debatable, but on Monday, the original four, plus three-time champ Blake Shelton, put that to the test kicking off the season five premiere with a live cover of "I Love Rock and Roll" that left no doubt as to their affections. Adam indulged in a guitar solo, Blake put on his best rock face, Cee-lo crooned and Christina whooped and danced whole-heartedly. There was chemistry in abundance, and no trace of any old inter-coach friction.

Then the coaches got down to business: Selecting the top talent at the tried and true blind auditions, and fighting for the singers in whom they saw the most potential.

First on "The Voice" stage facing four shaded chair backs was Raleigh-bred, black-and-white-clad glam rocker Kat Robichaud, 29, raised on musicals like "Annie" and seasoned from years on the road with her band. She delivered a growling, vibrato-laden take on the Kiki Dee Band's "I've Got the Music in Me" — and audibly kicked it up a notch when Cee-lo, Christina and Blake all turned.

Blake billed himself, rightly, as the unlikely choice, while Christina got personal, asking what instruments she played and praising her passion.

But it was Cee-lo's spitfire tribute that won her over. "It was so original, so new, so fresh, so raw. You more than entertained me, you engulfed me, you set me on fire, I was like, yes, I love her, I want her now, you know what I mean?" he gushed. (His space-age costume bearing a resemblance to those worn by her influence David Bowie circa 1973 must not have hurt, either.)

Kat, with her rockstar rasp and swagger, gave CeeLo his first successful nab of the night. A very different sort of singer — the very next to hit "The Voice" stage — gave him his second.

That would be Caroline Pennell, a shy and wide-eyed 17-year-old from New Jersey who had discovered her love of singing at performing arts camp. She sang "Anything Could Happen" by Ellie Goulding, and while she made no bones about the influence Goulding and other feathery-throated singers like Florence Welch had on her singing, the coaches saw through the emulation.

"I loved it, because it was real. You felt it," Christina said.
U.S. & World
News from around the country and around the globe
"I want you to start believing in yourself. You are a badass vocalist, first and foremost," Blake assured her, to her embarrassment and delight.

Again, the CeeLo sales pitch did it. "I believe that we're cut from the same cloth. I believe that we're kindred," he told her. She sided with him. ("He looks like he'd take good care of me, as a person," she explained — no mean feat for a man with all-over head tattoos.)

Next up came Donna Allen, a 54-year-old R&B singer proud of her long list of life accomplishments — she was the first black cheerleader for the Tampa Bay Buccaneers, she said, and she was a member of Gloria Estefan's Miami Sound Machine — but eager to tackle the big one: a solo singing career.

Donna took to the stage with an unfettered confidence, a fountain of pink hair extensions and a melisma-filled take on "You Are So Beautiful" that prompted Christina to turn instantly, followed by Adam.

"That voice is like the heavens opening up. I was so moved," Christina said, but even though she warned Donna, "Don't break my heart!" Donna still picked Adam as her coach.

Adam ran onstage and picked her up in a bear hug. "I don't care what age she is, she's fricking incredible," he said.

After that, it was three coach battles into the first night of the blinds, and Christina had lost two of them to her fellow prodigal coach CeeLo, the other to Adam. Her sales pitch, so far, wasn't working. But it would where it counted.

That came courtesy of Matthew Schuler, a Pennsylvania college student and son of two pastors with an earnest love of music supported by his tight-knit family. "I have so many songs in my heart," he said, but it only took one Monday to secure him a spot on "The Voice."

That song would be indie rock band Young the Giant's "Cough Syrup," which earned him the fastest four-chair turn in the history of "The Voice."

Cue the coach fisticuffs.

Still, despite the coaches' clamoring for Matthew on their teams, the flattered belter decided on Christina — to her delight and, she admitted, surprise. "She's gonna fight for me, and she's gonna help me find my voice in this competition," he said.

Next on stage was Nic Hawk, an ebullient theater kid turned hip-hop dance teacher. (He admitted to teaching his students to twerk. "What are you gonna do?" he laughed.) His singing style: Like Amy Winehouse and Jessie J, "but the male version, obviously."

He tackled a tough song he pulled off with aplomb: the hip-hop-styled, rapidfire revenge anthem "Hit 'Em Up Style (Oops!)" — replete with some improvised name-checks of CeeLo and Christina. But maybe Nic's most memorable performance came with his bold move of hitting on his once and future coach.

"What's going on, handsome?" he said to Adam after the Maroon 5 frontman turned his chair. (CeeLo turned his, too, but Nic's sights were elsewhere.) He said he had his reservations about being on Adam's team. "I don't know if I'll be able to focus, because you're so good-looking!," he said, but ultimately did choose to be on his heartthrob's team.

That left only Blake still with nobody on his team, in a stark reversal of fortunes since his 16-year-old protegee Danielle Bradbery gave him a three-in-a-row streak of "Voice" victories last season. But Blake got his chance when sassy powerhouse country singer Shelbie Z., a beauty pageant alum and stylist, took the stage.

"My music is just a fire inside of me that I've just got to let out," she said. "I'm gonna get on that stage and let that fire out tonight."

And when she did, singing Gretchen Wilson's honkytonk hit "Here for the Party," Blake, CeeLo and Christina all turned, though both the returning coaches knew full well Shelbie would go with Blake.

Next came 33-year-old Josh Logan, who was trying for the first time since he became a parent as a teen to pursue a career as a full-time musician. Performing Alex Clare's "Too Close," his elusive, unique style prompted Blake, Christina and Adam all to turn their chairs.

Despite Adam's praise for his voice and Blake's admission, "I have a man crush on you," Josh chose Christina as his coach, and she vowed not to let him down. "I'm gonna prove this season that I can come through for anybody," she said. Josh had faith in that. "She's very serious," he told Carson Daly backstage.

That left all the coaches with two teammates except Blake, who had one. But on his last press of his button, he didn't win a second. Instead, that coveted contestant went to Adam.

That last contestant to make it onto a team Monday night was James Wolpert, an art school dropout looking to validate his musical dreams (and quit his job at the Apple store) with a successful stint on "The Voice."

James' intensely emotive cover of Jack White's "Love Interruption" earned a chair turn from all four coaches.

"This is where the gloves come off. We're gonna fight tooth and nail about you," CeeLo warned.

Blake praised the character in his voice, admitting he would have expected it to belong to an older, more grizzled man than a fresh-faced young one. Christina bonded with him over their mutual Pittsburgh roots, and declared, "Thank you for showing me why I came back to this show."

But Adam, who had perhaps the least convincing sales pitch (involving some dubious basketball-related logic), won out and walked away from Monday's auditions with three team members. CeeLo and Christina each had two, while Blake had just one.

Along the way, a few talented contestants had to head home disappointed, after taking the stage only to turn no chairs. Among them was down-home Texan country singer Jake Worthington. There was also South Carolina "singing barista" Delvin Choice.

But most painfully of all was Matthew Brea, just 15, who came to love music through his dad's church a capella group and dedicated his singing to his little brother who died as a child. He had sung at Jonathan's funeral.

The charming Atlanta-bred teen didn't prompt any coaches to turn their chairs with his sunny take on the Jackson 5's "I Want You Back." But he did earn praise for his voice.

Visibly deflated, Brea slunk off the stage as the coaches encouraged him to come back to try out again when he was older.

CeeLo found him backstage and tried to reassure him. "I can relate to your pain," he said, noting how he had had to sing at his mom's funeral. "I promise you, don't give up."

"The Voice" returns at 8/7c on Tuesday on NBC.