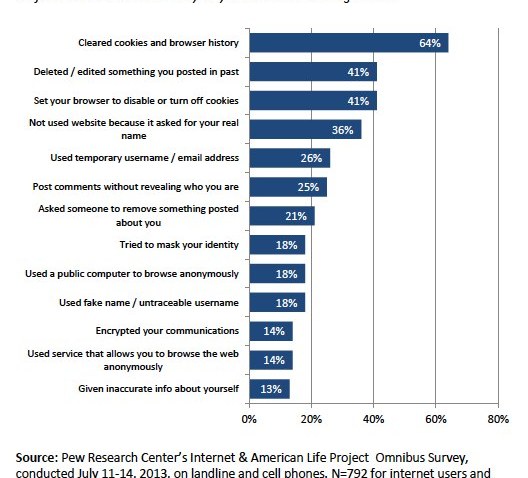 Although 86 percent of adults surveyed in a recent poll take pains to hide their online identity, more than half said that that online anonymity was impossible.
About 59 percent of 792 respondents told the Pew Internet and American Life Project that it wasn't possible to be completely anonymous online, according to the Pew Research Center. Those with "college or graduate education" tended to clear their browser history, disable cookies and not use a website because it asked for too much personal information.
The survey also found that people seemed to "bounce back and forth" from disclosing real names or known user names, to posting anonymously.
U.S. & World
News from around the country and around the globe
When users post material online, they are more likely than not to attach their name or a recognizable screenname to their material: 49% of internet users say they have used their real name and 47% use a screenname or username that people associate with them. At the same time, 25% of internet users say that they have posted material without revealing who they are.
Younger users, those under 30, tended to bounce back and forth at a higher frequency, likely because they are heavier users.
The survey tells us that while most people would like more anonymity online, most have given up on that pipe dream. Many believe (42 percent) that it would be easy to track them down after issuing an anonymous comment. Only 3 percent said it would be nearly impossible.