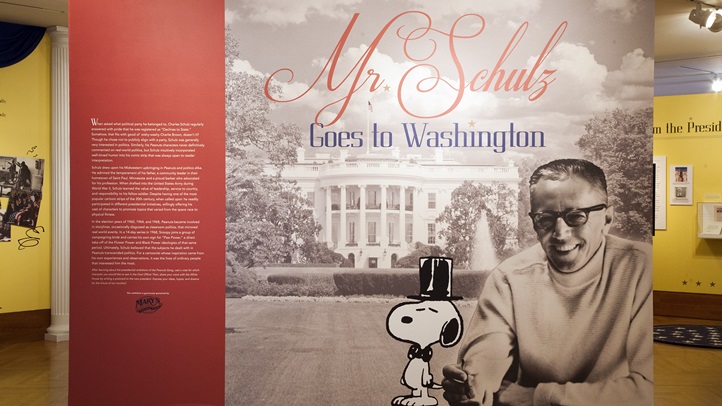 A WRY TAKE ON THE POLITICAL PROCESS: While Halloween can summon a caboodle of "Great Pumpkin" references, thanks to the caboodle of fans committed to an annual viewing of the classic "Peanuts" cartoon, there is another date falling in the fall which has ties to the legendary comic characters: Election Day. It makes sense that such a day would have held sway with "Peanuts" creator Charles Schulz, a man who was rather well-known for his philosophical and deep-thought approach to the little and big matters of day-to-day life.
A NUMBER OF SUCH MATTERS... are those considered by our elected representatives, so longtime readers of Mr. Schulz's beloved comics saw, from time-to-time, references to the political process (in Mr. Schulz's inimitable style, of course, which included humor, a touch of skepticism, and a truckload of wryness). To celebrate those strips, the Charles M. Schulz Museum in Santa Rosa has grandly embraced this big election year with an exhibition called "Mr. Schulz Goes to Washington."
PRESIDENTIAL DOGS, TOO: There are a few elements to the exhibition, which is on through Jan. 22, 2017 (yes, just a couple of days after the inauguration). Some "original presidential-themed 'Peanuts' comic strips" are part of the display, as well as "campaign bumper stickers, buttons, and banners." There's also a "Lucky Dogs and Presidential Pets" celebration, too, spotlighting those furry friends who've called 1600 Pennsylvania Avenue home. For more on the museum's presidential doings, make your way to Washington by way of Santa Rosa now.
Copyright FREEL - NBC Local Media