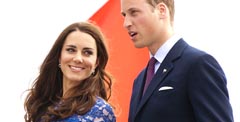 I woke up this morning to read about my bankrupt local baseball team in my bankrupt local newspaper.
The perfect Southern California morning.
So the arrival this weekend of the hot, young, newly married royal couple, Kate and William, feels like a bit of a tonic.
U.S. & World
News from around the country and around the globe
Greater Los Angeles feels like it's on a big, big losing streak.
While Silicon Valley up north has bounced back, with a string of IPOs, we southerners are suffering through some of the highest sustained unemployment in our history. And while the state government is broken for all of us, Southern California seems to have less of a voice in how to fix it than other, less populous regions.
The governor, lieutenant governor, attorney general, state senate chief are all from the North, and sometimes feels like they're neglecting us.
Heck, after their long weekend in Southern California, Kate and William will have spent nearly as much time in the area as Gov. Brown has since the inauguration.
So we'll take our triumphs where we can.
Thanks to the royal couple for limiting their California travel to points south, with the Bay Area media noting the snub. (One reason they're skipping: Perhaps William and Kate get enough cold weather and clouds back home).
We still got, well, something, besides informality.
Thanks, Willie and Katie.