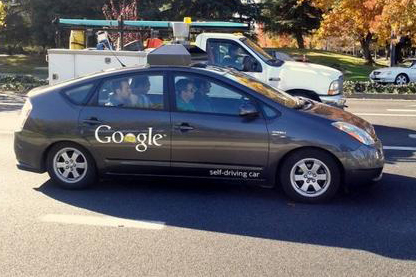 Could humans be losing control of their cars?
In the view of state Senator Alex Padilla, D-Los Angeles, that may be a good thing.
He arrived at the Capitol Thursday in a Prius engineered by Google to be self-driving. It's not science-fiction. Proof, Padilla said, that this technology "is coming, much sooner rather than later."
U.S. & World
News from around the country and around the globe
Padilla has introduced a bill, SB 1298, which directs the CHP to develop safety guidelines for testing and operation of autonomous automobiles.
Gearheads of the world, take note. In car-crazy California, Padilla says he wants the state to get ahead of the curve when it comes to this new breed of driver-less car. He says he took the Prius for a spin to the airport.
"It was smooth. It probably drove better than we would have driven," Padilla said.
"It never gets distracted, it never gets drunk. It's a much better driver than I am," Anthony Levandowski, Google product manager, said as he stood by the test vehicle.
The car uses an array of sensors, laser scanners, cameras, and radar to keep track of its surroundings. Google's been working on the project for at least ten years, but admits it still has no idea when it could be marketed or what the cost would be.
Padilla wants the state to be ready and is a believer.
"Autonomous vehicles have the potential to significantly reduce traffic fatalities and improve safety on our roads and highways," Padilla said.
That's assuming the technology is reliable. You wouldn't want to have to re-boot the system while traveling 65 miles per hour.
And then there's the question of whether drivers want to surrender their autonomy to a computer. Sure, driving is simply a chore for some.
But, hey, i like to drive. I enjoy the sense of control in maneuvering through traffic or along winding roads. Surrendering the driver's seat to Google? I'm not sure my Mustang GT would be quite the same in the hands of a computer chip.
Padilla's bill has yet to be assigned a committee hearing.
Let us know what you think. Comment below, send us your thoughts via Twitter @PropZero or add your comment to our Facebook page.