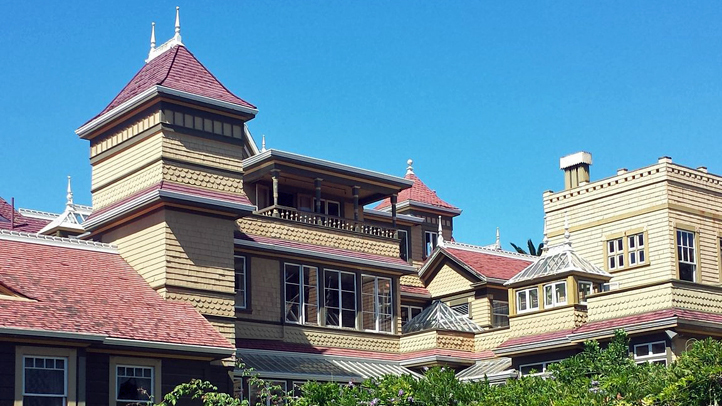 PLAYING CLUE... or another classic board or parlor game that's set in a giant, legendary manse requires a few things. One? You'll need to accurately read the other players' expressions, no matter how hard they attempt to keep a straight face. Two? You'll need to be patient, very patient, before you can make your final, all-important guess as to what went down with the mystery at hand. And three? You have to truly know — even memorize — all of the rooms, from the library to the kitchen to the conservatory. There is, however, a real-life place in California that boasts such interesting spaces, nooks and crannies from another day, and there's no need to break out the board and cards. You can learn them all by calling upon the...
WINCHESTER MYSTERY HOUSE... in San Jose. Built by Sarah Winchester decades upon decades ago, the Winchester famously has stairways to nowhere, doors that lead to brick walls, and, yes, so many spaces that sound straight out of a Victorian tale. And if you have a tale to tell, specifically one involving otherworldly experiences you had while visiting the enormous abode, you can gab about ghost sightings on the Winchester's web site. Specifically your ghost sighting, meaning you'll want to remember exactly where you saw the spirit. Spaces in and around the mansion include the carriage entrance, the front parlor, the belltower, the linen room, and the seance room, so if your ethereal experience happened in one of those spots, share it.
IF THOSE SOUND LIKE ROOMS... from a favorite board game, well, they do exist, in San Jose, within the regal walls of one of the best-known houses in California (and, truly, anywhere). The Winchester may choose to share your tale, in some form, so read all the fine print before hitting the "Submit" button. Have you been telling pals a wraith-based story for years? Set at the Winchester? Consider, then, telling the house itself what you saw.
Copyright FREEL - NBC Local Media