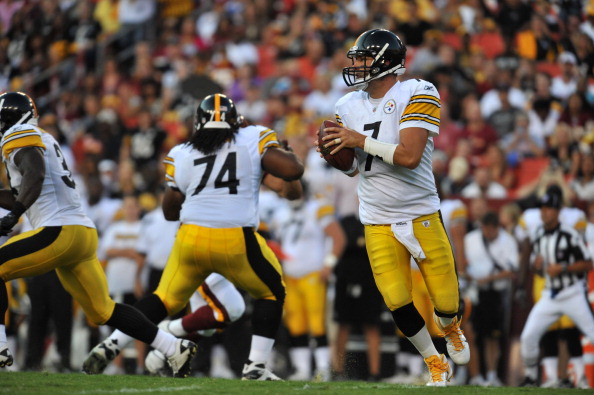 NFL Training camp season is always a time for irrational exuberance. Every team thinks it can win the Super Bowl, even though 31 of those teams will end being horribly wrong. And so, to preview the upcoming NFL season, which could be the most unpredictable ever, we now give you five reasons why your favorite team could win the Super Bowl. Today, it's the Pittsburgh Steelers.

1. Because they can ALWAYS win the Super Bowl. Ah, those old reliable Steelers. Steady like a rock. While the rest of the NFL went bonkers with coaching changes at the end of last season and free agency moves in August, the Steelers just sat back and twiddled their thumbs as they always do, always reliant on their PITSSBURGHISH way of doing things: namely, drafting very good players and locking those players in the fruit cellar until they're the perfect ripeness. Anyway, it's hard to bet against the Steelers when the core of last year's AFC title team is returning, including Ben Roethlisberger, who is cleared to play all 16 games, provided of course...

2. Big Ben can outrun the pillaging hordes. The Steelers will be without two of their tackles from last season: Max Starks and Flozell Adams. This is alarming, because the line wasn't very good last season to begin with. Now all that's left is Maurkice Pouncey, the corpse of Willie Colon, and a pile of scrap. Roethlisberger has shown an uncanny knack for evading the rush over the years. He'll need to rely on those instincts even more this season, because opposing pass rushers are going to be in his face A LOT.

3. You can't fine the James Harrison out of James Harrison. God bless James Harrison. Every time the NFL fines him for what they deem overly aggressive play, the man becomes that much more determined to obliterate everything in his way. If Roger Goodell fines Harrison yet again this season (and he will), we could very well see Harrison morph into the Balrog, growing to twenty feet high and able to wipe out opposing offense with a snap of his firewhip. Don't put it past him. While the Steelers have issues with their O-line and in the defensive backfield (safety Troy Polamalu wasn't himself last postseason and the corners are iffy), their linebacking corps remains the best in football.

4. Rashard Mendenhall runs better than he tweets. So running back Rashard Mendenhall wasn't quite as overjoyed about Osama bin Laden's death during the offseason as everyone else was. The man can still tote the rock, and that will be more important than ever with the pass protection so iffy. If the Steelers can get a career year out of Mendenhall (and I'm talking 1,500+ yards), then Big Ben will be under less duress, and then there won't be as many sacks and turnovers. All very important. For a team coming off a Super Bowl appearance, things feel a bit more delicate this season. Harrison and Polamalu are getting older. Hines Ward is getting older. The heart of a team that won two Super Bowls in the past six years is tilting just past prime age now. They need the likes of Mendenhall and wideout Mike Wallace to step in and become dominant. Knowing the Steelers, that's all but preordained.

5. Big Ben didn't go to Georgia ONCE this summer! Well, not that you know of.