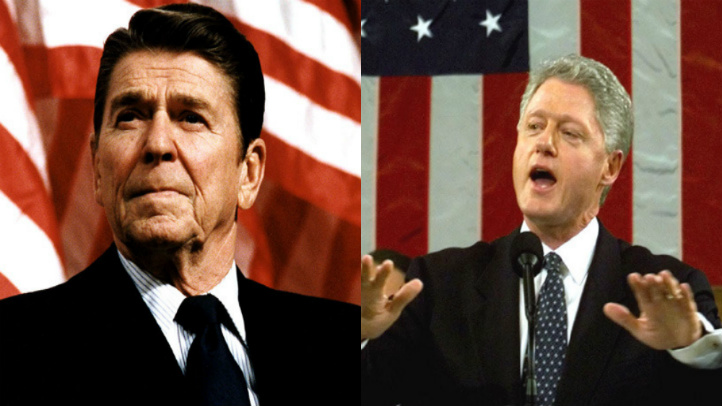 Reagan "didn't take no crap from nobody."
"All presidents look out for the wealthy."
"As a joke I was going to say Millard Fillmore, but I like Carter as a person-- just a gentle soul."
Politics
Local, state and national politics
In honor of Presidents Day -- officially George Washington's birthday -- we asked our Facebook fans to name their favorite U.S. President.
The highly unscientific survey generated more than 300 responses, ranging from the thoughtful to the profane.
"The president we have right now is so retarded he has done anything for this country than get us more into debt making this country worthless," wrote Elaine Brenda Rmz. "Can't wait until he has left the white house."
Janet Kovalesky disagreed: "Definitely Obama!"
Ronald Reagan and Bill Clinton were the overwhelming favorites, with the "Teflon Don" finishing slightly ahead.
"The only president in the 20th century that actually made positive growth changes for all Americans," wrote Larry Friend of Reagan.
For Shohreh Sad Clinton edged out Obama: "We saw a better and more stable economy and foreign relations were better."
Some refused to choose.
"Ronald Regan and Bill Clinton!!!" said Ariana Camarena.
Secretary of State Hillary Clinton never made it past the Democratic primaries as a candidate, but that didn't stop her fans from naming her their favorite "president."
In the battle of the Roosevelts, Theodore edged Franklin just slightly.
In a battle of the Fords, Harrison beat out Gerald. Yes, Harrison Ford, the actor.
Harrison Ford beat out Gerald Ford by three votes to one, and he also beat out Andrew Jackson, Millard Fillmore and Harry Truman.
Abraham Lincoln and George Washington received a good share of the votes.
"The first person ever to lead our country had to be the most intimidating and scary thing," wrote Robert Bishop about Washington.
Ruben Azroyan concurred: "General George Washington the only president who cared for this country more than himself."
Follow NBCLA for the latest LA news, events and entertainment: Twitter: @NBCLA // Facebook: NBCLA