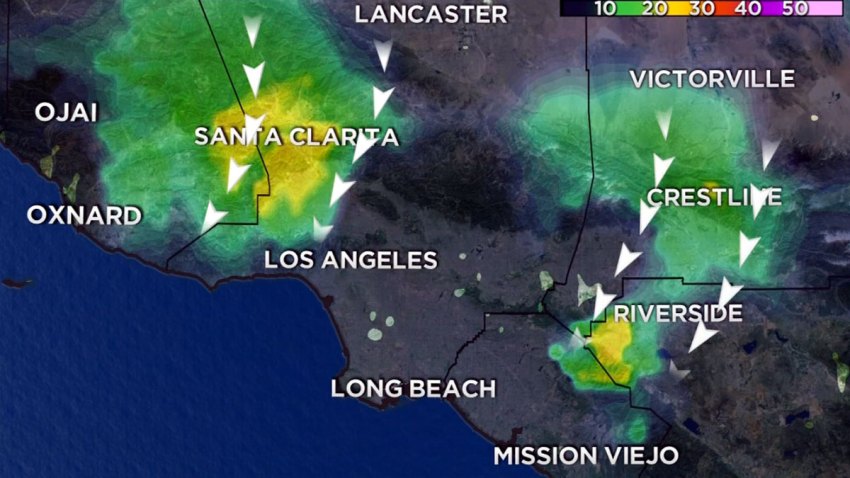 Santa Ana winds will bring strong gusts to valley areas and a long west-northwest swell will continue to bring high surf Tuesday to the Southern California coast.
Powerful winds are scheduled to arrive Tuesday morning, bringing 55 mph gusts in mountains areas and parts of the San Fernando and Santa Clarita valleys. The highest wind speeds are expected in the Santa Clarita Valley north of Los Angeles.
Weather Page: Severe Weather Alerts
The Santa Ana winds are expected to push temperatures well above the average high of 68 degrees for this time of year. Some parts of the region could bask in 80-degree temperatures.
A wind advisory will be in effect until 3 p.m. for the San Fernando, San Gabriel and Santa Clarita valleys and the Los Angeles coastal zone, which includes beach cities, metropolitan Los Angeles, downtown LA and the Hollywood Hills. In Orange County, a wind advisory will be in effect until 6 p.m.
"The Santa Ana Mountain range will be a hot spot for winds and also the Inland Empire," said NBC4 forecaster Crystal Egger.
Damaging winds earlier this week brought down trees, including one that landed on a car in Chatsworth, and contributed to power outages for thousands of customers.
The National Weather Service also issued a beach hazards statement through 10 a.m., saying 3- to 5-foot waves and strong rip currents were likely, especially along west-facing beaches south of Del Mar.