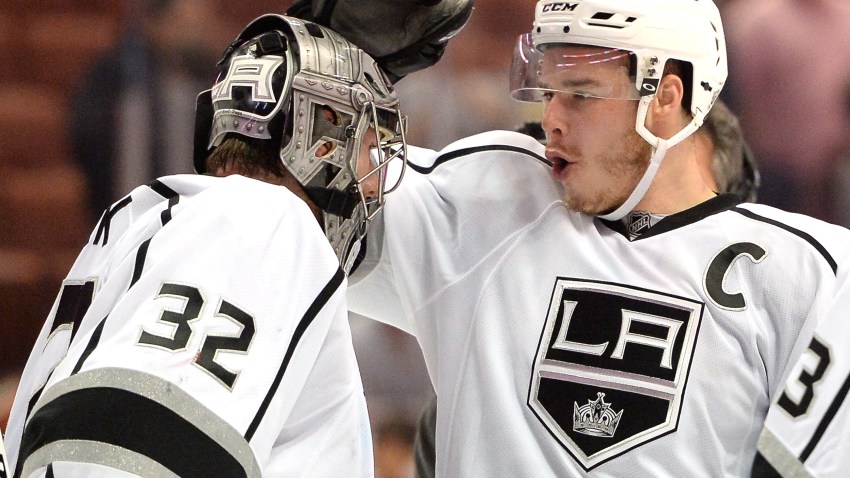 For the sixth time in the Stanley Cup playoffs, the Los Angeles Kings will face elimination when they battle the Anaheim Ducks in Game 7 of the Freeway Face-Off on Friday night at Honda Center.
In the first five games, the Kings have managed to stave off elimination, outscoring the Ducks and the San Jose Sharks by a margin of 20-6 in those contests. Jonathan Quick has been off the charts good in those games as well, including a 39 save effort against the Sharks in Game 7 of their first round series.
The question, then, is how can the Kings make it a perfect 6-for-6 and eliminate the Ducks to set up a Western Conference Final rematch with the Chicago Blackhawks? Here are our Three Keys to victory for the Kings.
Jonathan Quick Must Be In Top Form
With that effort against the Sharks in his back pocket, Quick is surely confident heading into this game against the Ducks, and he should be. He has looked great in all five of the elimination games so far in these playoffs, making a slew of clutch saves and keeping a couple of quality offenses in check.
Against the Ducks in this game, Quick is going to have to continue that kind of clutch play. He has struggled at times during the playoffs, getting pulled earlier in this series in a Game 4 loss to Anaheim, but he seems to lock in when the pressure is at its highest. If he can do that again in this game, then the Kings will have a really good chance of winning.
Doughty Must Be Assertive on Offense
The Kings have gotten some great production out of their forwards in these playoffs, with Anze Kopitar and Marian Gaborik both having impressive postseasons thus far, but from the blue line, the Kings have been left wanting a bit.
Drew Doughty and Jake Muzzin have both been solid in the playoffs, with eight and seven points respectively, but the Ducks have done a nice job of keeping Doughty from asserting himself too much on the offensive side of things. He has had his moments of brilliance in the series, including an assist on the game-winning goal for the Kings in Game 1, but for the most part he has been held in check by a combination of point pressure by the Ducks and some great neutral zone work by the Anaheim forwards as Doughty tries to make his way up the ice.
Getting through that kind of concerted defensive effort is especially difficult for a blue liner, whose responsibilities cover far more than just moving the puck up the ice. Doughty will have to get creative in this one in order to alleviate some of the pressure, including using stretch passes and quick passes across the neutral zone to open teammates, and if he can do that, then he should open up a bit more ice for himself and get the Kings' offense clicking in a more effective fashion.
Discipline a Must
The Kings surrendered six power play opportunities to the Sharks in Game 7, and even though they came out on top, the score easily could have gone the other way had San Jose's potent man-advantage group would have been able to get churning.
Against the Ducks in this series, the Kings have been largely effective at times, but they've also had their fair share of lapses. The Ducks are 5-for-21 on the power play in this series, and that isn't a number that inspires a ton of confidence for the Kings. Yes, they did go 5-for-5 in killing off penalties in their Game 6 win at Staples Center, but that isn't exactly a recipe of success against a team that has been scoring quite a bit against them on the man-advantage in this series.
If the Kings give Anaheim six chances on the power play tonight, especially in a hostile environment, then they are going to be asking for trouble in a big way. Quick was excellent against the Sharks in Game 7 last round, but asking him to not only be great at even strength but also to be great under more significant duress may be asking a bit too much.