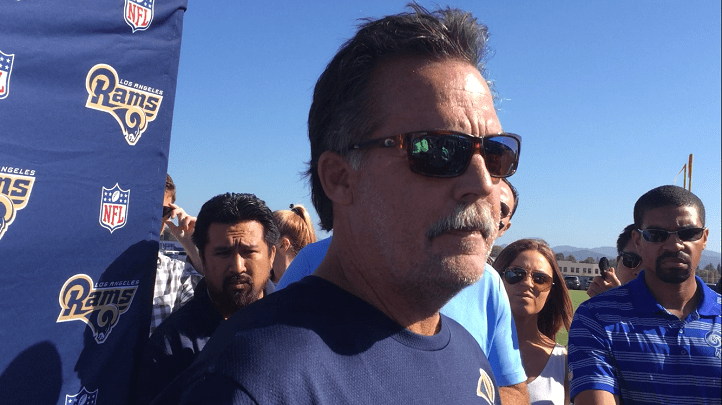 THOUSAND OAKS, Ca - "Well, this is my 16th NFL start, so I have done it before, just in case you guys were wondering," Los Angeles Rams starting quarterback Case Keenum answered his first question after a media member erroneously asked what it felt like being named as the starter for his first NFL game. "But first opening day start for sure, it's exciting."
Keenum added, "It's Monday Night Football. It's a divisional opponent. It's the first time for it to be my show starting out."
Thursday was officially the first game plan day, as the Monday night schedule allowed the team to do a couple walk through practices before going hard on Thursday, with more of the same expected on Friday. Saturday should be a slow come-down day, before the teams travels up to San Francisco on Sunday.
Monday, the Los Angeles and San Francisco professional football rivalry renews.
"I've been on both sides of it," LA Rams coach Jeff Fisher said on Thursday. "In '91, [in LA] playing the 49ers. They were a bit better than we were at that time. And then the next year, I was on the other side, on [the 49ers'] sidelines playing the Rams. So, I've seen both sides of it."
Fisher continued, "The 49ers and the Rams are chasing the Cardinals and the Seahawks right now. It's a great rivalry. We'll rekindle it from our fans' standpoint. But until we get to that point, which we hope personally is very soon, we got some work to do."
Asked about what the rivalry meant to him, Keenum admitted that he had not yet grasped the nuances of living in Los Angeles, but still felt a sense of pride in representing the City of Angels.
"I'm excited, I really am," the 28-year-old said. "It's the first time putting on a jersey with Los Angeles on the front of it. I get to represent our city."
But when it came to the NorCal versus SoCal talk, Keenum claimed ignorance. The former University of Houston quarterback said he had only recently been up to see the Hollywood sign.
"I think I'll grow into it and learn," Keenum said about leading LA in the rivalry game. "I have to admit I haven't been to Roscoe's yet and had Chicken and Waffles. I know. It's terrible of me. I know I'm going to have to do that."
During the course of the press conference with Keenum, a question about the Rams' no. 1 pick Jared Goff came up. According the Rams' starter, he hasn't gone a single press conference without being asked about the young quarterback since the 2016 NFL Draft.
Goff, who is from the Bay Area and played at California, will be inactive for the first game because he simply isn't ready in his coach's eyes.
"I know there's a plan in place, and I know this is all part of it, and there a process, and you just got to trust the process and know it's always going to work out," Goff said, standing in front of his locker on Thursday. "Just continue to work hard and just do the best I can every day and like I said, just be ready when my number is called."
Goff added, "I'm going to continue to trust [the coach] and trust the process and know that they have a really well thought out plan in place, and this is part of it."
Asked if not playing in his home town stung, the 21-year-old retorted, "I'll play in San Francisco more than once, so I'll be okay."