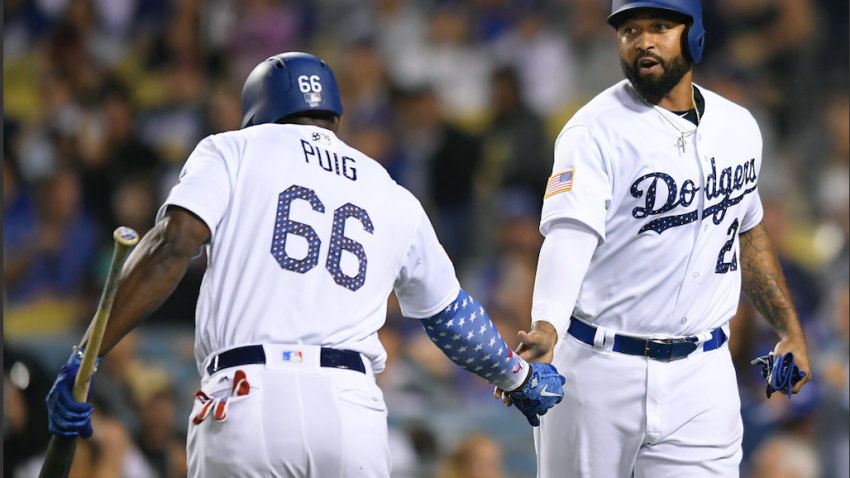 The Yasiel Puig era in Los Angeles appears to be over.
The Los Angeles Dodgers traded Matt Kemp, Yasiel Puig, Alex Wood, Kyle Farmer and cash considerations to the Cincinnati Reds in exchange for Homer Bailey, and minor league prospects Jeter Downs adn Josiah Gray on Friday.
Sources told NBC LA early in the afternoon that a deal between the Dodgers and Reds had been agreed upon with outfielders Kemp and Puig believed to be in the deal in exchange for Bailey.
The move did not come as a surprise to most insiders as both teams had been discussing the particulars of the trade for weeks, with each team shedding large contracts in the process in order to shed salary.
After trading for Tanner Roark last week, the Reds wanted to compete with the heavyweights in the NL Central and so adding two All-Star caliber outfielders and a former All-Star in left-handed starter Alex Wood, they have done just that. Wood was 9-7 last season with a 3.68 ERA in 27 starts and six relief appearances.
"We still have resources to make this team better — we're not done yet," said Cincinnati president of baseball operations Dick Williams. "We did trade some good prospects here, but we acquired four major league players that address needs for us and I think we're better in the short-term."
Meanwhile, the Dodgers removed two pieces from an already crowded outfield, and are expected to release Bailey once the trade becomes official. Bailey had a 10-5 no-trade clause, but agreed to waive it if the Dodgers granted his release.
The Reds were eager to move Bailey after back-to-back bad seasons. Bailey once threw two no-hitters, but has been battling arm issues and has had three surgeries in recent years. He went 1-14 last season with a 6.09 ERA.
Kemp and Puig are both expected to start for the Reds. Each of them are in the final year of their current contracts. Kemp, 34, batted .290 with 25 doubles, 21 homers and 85 RBIs last season, when he was an All-Star for the third time.
Puig, 28, has spent his entire career in Los Angeles after being signed out of Cuba in 2012. The power-hitting right fielder hit .267 with 23 homers, 63 RBI and 15 stolen bases during the 2018 campaign, his sixth as a Dodger.
In the deal, the Dodgers not only save money under the luxury tax, but now have the roster availability and the financial flexibility to sign another outfielder like top free agent Bryce Harper.
"We still feel like we have a really good team, but feel like we want to continue to add to it before we get to Spring Training," said Dodgers President of Baseball Operations Andrew Friedman on a conference call with reporters shortly after the trade was announced.