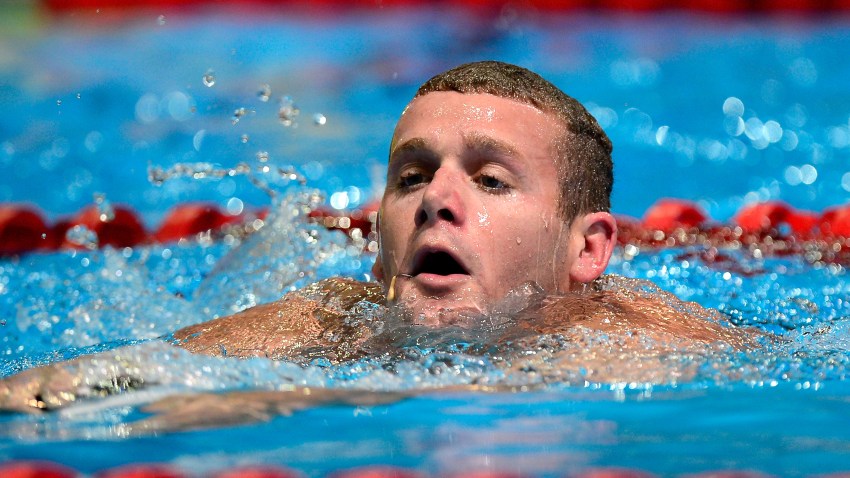 Tyler Clary has a history of close-but-no-gold finishes when he faces Ryan Lochte, and the Riverside swimmer will face the three-time London Olympics medalist again Thursday in the 200m backstroke.
The showdown is scheduled for 11:48 a.m. PT.
Other Southern Californians in action Thursday include members of the group-leading men's water polo team and the undefeated volleyball team of Jen Kessy and April Ross.
Women's Singles: Serena Williams v. Caroline Wozniaki
Williams has made quick work of her opponents, so far. She needed just 28 minutes Thursday to win the first set against Denmark's Caroline Wozniaki in the quarterfinals.
Results

Women's Beach Volleyball: Jen Kessy/April Ross v. Spain
The Orange County team of Jen Kessy and April Ross already secured a spot in the Round of 16, but they can win their group with a victory Thursday over Spain.
Watch: 10:30 a.m., NBC | Watch LIVE Online 8:30 a.m.

Men's Water Polo: United States v. Great Britain
Ryan Bailey and Peter Varellas scored three goals apiece in the United States' 10-8 comeback win Tuesday over Romania. Great Britain is coming off a crushing 16-3 loss to Australia. The U.S. could do with a win Thursday as group-stage games loom against Serbia and three-time Olympic gold medal winner Hungary.
Watch: 12:20 p.m., NBC | Watch LIVE Online 10:40 a.m.
Women's 200m Breaststroke: Rebecca Soni
USC's Rebecca Soni set a world record in qualifying for the final -- 2:20.00. She has a solid chance to medal in Thursday's final.
Watch: NBC, 8 p.m. (Primetime) | Watch LIVE Online at 11:40 a.m.

Men's 200m Backstroke Final: Tyler Clary
Clary and Ryan Lochte finished first in their respective heats Wednesday -- Clary at 1:54.71 and Lochte at 1:55.40. The Riverside swimmer finished with three silver medals at the 2011 Pan American Games. The only obstacle that prevented him from winning three gold medals at that competition was Lochte, who had a grueling scheduled Wednesday -- two qualifiers and two semifinals.
Watch (Primetime): 8 p.m., NBC | Watch LIVE Online at 11:48 a.m.

Men's Beach Volleyball: Phil Dalhausser/Todd Rogers v. Czech Republic
Rogers and Dalhausser are one point clear of Spain and the Czech Republic atop Group B and well positioned for the Round of 16.
Watch (Primetime): 8 p.m., NBC | Watch LIVE Online at 1 p.m.

Men's Basketball: United States v. Nigeria
Tunisia actually led Tuesday's game against the United States 13-12. That was seven minutes into the game and before coach Mike Krzyzewski pulled all five starters in favor of something resembling defense. UCLA Bruin Kevin Love led the U.S. with 16 points as the Americans closed out Tunisia with 39 fourth-quarter points on the way to a 110-63 win.
Watch (LIVE): 2:15 p.m., NBC Specialty: Basketball | Watch LIVE Online at 2:15 p.m.