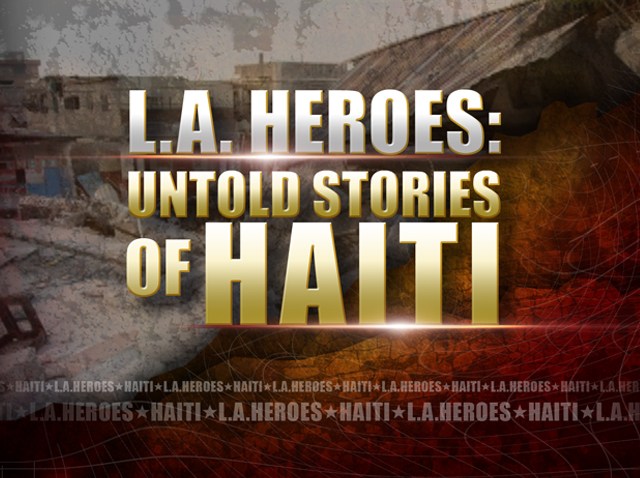 Imagine being buried alive... trapped by tons of twisted metal and concrete with no real hope of being rescued. LA County's elite rescue squad - one of the most skilled teams in the world - traveled to Haiti after its earthquake to do what some thought impossible - free victims pinned by large slabs of concrete.
This Sunday, March 14th at 5pm - NBC4 will bring you a world exclusive "L.A. Heroes: Untold Stories of Haiti." In their own words... using their own cameras, L.A. County Fire's Urban Search and Rescue team (USAR) shares its most dramatic mission to date - the rescue of nine survivors of the 7.0 earthquake.
The 72.-member USAR team hit the ground running - 36 hours after the earthquake happened on January 12th. On their first day they were back to back rescue missions. The team includes both firefighters and civilians, such as doctors, structural engineers, dog handlers and six search and rescue dogs.
The half-hour special features several rescues, including one that became an iconic image of the Haiti earthquake. Known simply as the "Singing Survivor, " Jinette Sainfort survived six days inside a small void space. Her fingers were pinned by a metal sign. But her determined husband and an alert child heard her crys for help and alerted USAR to where she was trapped. You will be inside the small space as firefighters cut her free and as she emerges with a song of thanks.
"L.A. Heroes: Untold Stories of Haiti" reunites Sainfort and her USAR rescuers for the first time since she was freed from the rubble. The emotional reunion takes place via setellite, connecting Sainfort from Florida to rescuers in East L.A. at L.A. County Fire Headquarters.
NBC4 Reporter Robert Kovacik is the host of the special, which will also re-air at 11:35pm the same evening.
"L.A. Heroes: Untold Stories of Haiti" is executive produced by Rebecca Nieto. Additional photography was shot by Thomas Bravo and Scott Meadows and edited by Dino Castro and Lindsey Jackson.