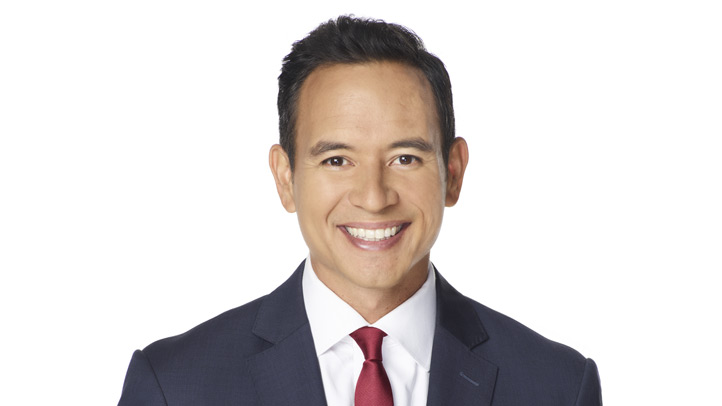 NBC4 Southern California today announced Adrian Arambulo as the co-anchor of its award-winning weekday morning newscast, "Today in LA." Arambulo, who has been with the station since 2013, will permanently co-anchor the three hour-long news show alongside Daniella Guzman, Traffic Anchor Alysha del Valle and Meteorologist Shanna Mendiola. "Today in LA" airs weekdays 4:00 a.m. to 7 a.m.
For five years, Arambulo co-anchored the station's weekend newscasts at 7 a.m., 5 p.m., 6 p.m. and 11p.m., and also reported breaking news during the week. He has covered a variety of stories, including the "Old Fire" in Calabasas and the aftermath of the San Bernardino terror attack. He also reported extensively on the deadly shooting spree near a college campus in Santa Barbara and the 5.1 magnitude earthquake in La Habra. Arambulo also covered Hurricane Ike, the Fort Hood shooting massacre and the murder of Navy SEAL sniper Chris Kyle.
"Adrian is a modern day journalist with excellent story-telling abilities," said Todd Mokhtari, NBC4's Vice President of News. "He will bring a fresh, bright and upbeat approach to help Southern Californians start their day with the news and information they need to get going in the morning. "
"I am fired up to be part of this talented and committed news team that is so well respected," said Arambulo. "It's a tremendous opportunity to be part of an Emmy-winning team known as the best at covering breaking news, but also for being in touch with the community, " said Arambulo.
Prior to joining NBC4, Arambulo spent six years at KDFW-TV in Dallas-Fort Worth where he served as a weekend morning anchor and reporter. He was also a general assignment reporter and fill-in anchor for KLAS in Las Vegas, and served as bureau chief for KGBT in Brownsville, Texas.
His community work includes supporting the City of Bellflower's BRAVO awards and participating in the Golden Dragon Parade in Chinatown, the annual Comcast Cares Day volunteer initiative and NBC4's Clear the Shelters pet adoption drive.
Arambulo has been recognized with a number of awards, including a Golden Mike from the Radio, Television and News Association, several Emmy Awards in the Los Angeles market, Dallas and Las Vegas markets, and two Las Vegas Electronic Media Awards. He also has been honored by the Texas Associated Press, U.S. Marshals and the Visiting Nurses Association.
Born and raised in Chicago, Arambulo graduated with honors from Loyola University Chicago, where he wrote for the school newspaper and served as anchor and news director for the school's radio station. He is a die-hard sports fan, loves traveling, playing golf and enjoys spending time with his Southern California family. He resides in Los Angeles.
About NBC4 Southern California
NBC4 Southern California (www.nbclosangeles.com) is the West Coast flagship of the 10 NBC owned television stations. It produces more than 30 hours each week of local news and information across its multiple platforms, including the main broadcast channel 4, www.nbclosangeles.com and California Nonstop, the 24/7 news and information channel that airs on NBC4 LA's digital channel 4.2. Serving the Los Angeles community since 1949, NBC4's news operation has received nearly every industry award bestowed on local news, including numerous Los Angeles Emmy and Golden Mike Awards, as well as two national Edward R. Murrow Awards and a Peabody Award.