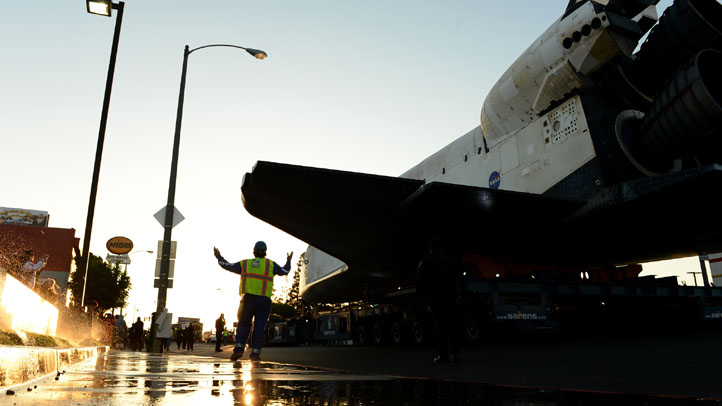 It's hard to top a mega orbiter that's been into space, but visitors to the California Science Center have felt multiple pulls beyond the Space Shuttle Endeavour.
Such as?
Well, that welcome movie for one. We're referring, of course, to the one that depicts the shuttle's journey from LAX to Exposition Park in time-lapse. It's a crowd favorite; people have hung around for multiple viewings which means they are delaying seeing the real thing, which comes after the film is screened.
The Scene
What to do, where to go and what to see
Now a new facet to the Endeavour experience has debuted, and it furthers our fascination with its epic, Inglewood trip. It's called "Mission 26: The Big Endeavour," and it opened on Monday, March 11 at the California Science Center.
Picture over 80 photos of that 68-hour journey, many taken by our town's most accoladed photojournalists. Even if you became something of a shuttle buff during its October 2012 journey, you're likely to see some new perspectives in the mix. (Which are your favorites? We like the snapshots of people reaching up to touch a wing, or at least trying -- something rather moving about that.)
In short, the whole spectacle of pulling a gargantuan piece of space transportation through suddenly tiny streets will forever grip us, even if we've now made multiple trips to the Center to see the shuttle in person.
And many of us have: Over one million people have now visited Space Shuttle Endeavour at the California Science Center's Samuel Oschin Pavilion, all in under six months.
Copyright FREEL - NBC Local Media