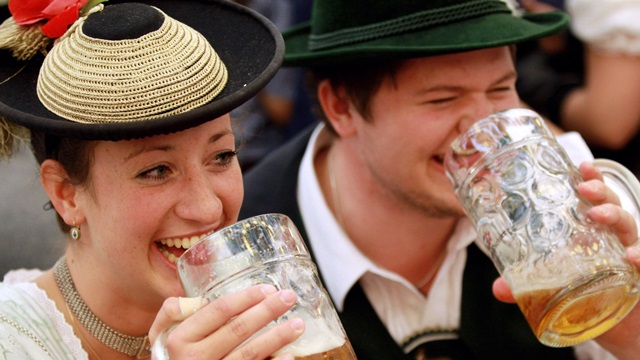 How have your accordion lessons been coming along this summer?
You've practiced diligently, waking daily before dawn to burnish your bellows-based techniques. You've mastered a few oompah classics, all to delight your oompah-obsessed friends. And singing mightily as you play? A snap, thanks to weeks of vocal classes.
Or, maybe, instead of the accordion, you've been perfecting your Chicken Dance, or your stein-holding abilities, and that is absolutely Oktoberfest-y, too. For even if you didn't learn how to play the accordion in recent months, you can still dance it up, around Southern California, at an authentic, raise-your-voice, rock-your-lederhosen Oktoberfest bash.
The Scene
What to do, where to go and what to see
As is tradition, some of the majors are kicking off just days after Labor Day.
Alpine Village in Torrance cut the proverbial ribbon on its Oktoberfest celebration on Friday, Sept. 8, "The Oldest & Largest Oktoberfest in Los Angeles." The polka tunes ring out Friday through Sunday right up to Saturday, Oct. 28.
Sundays are designated as Family Days, there's a Dine, Stein, No Line! Package available if that floats your foam, traditional German bier will be for sale, and Giant Bavarian Pretzels? They're absolutely a gotta-have-one delectable this time of year.
And at Old World in Huntington Beach, a Kiwanis fundraiser is the party-starter on Sunday, Sept. 10, the first day of the venue's 2017 Oktoberfest. Look for Sunday Dachshund races, savory brats, foamy beers, and all of the harvest-y hallmarks of the Oktoberfest season.
More Oktoberfest festivities are still to launch around the region, including the mountain parties and at the Phoenix Club in Anaheim, so stay tuned.
Just keep an ear turned for the ol' rolling out of the barrels, the first strains of the Chicken Dance, and, yes, the lovely wheezes of that awesome Oktoberfest accordion music.
Copyright FREEL - NBC Local Media