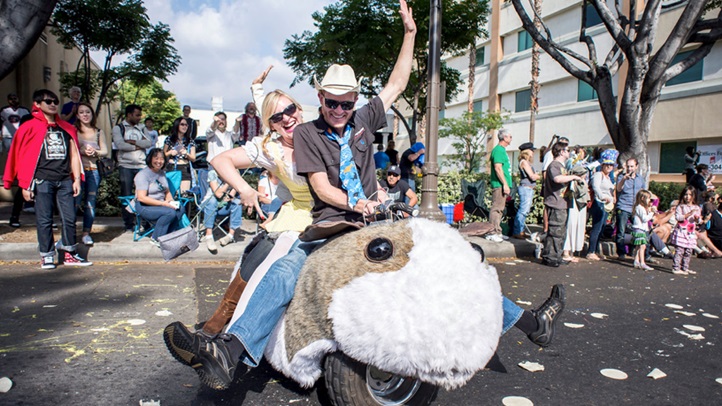 If you've ever nurtured a quirky habit or hobby, you've likely found yourself making concessions for it, or explaining it, or trying to talk up the fact that you like wearing a particular costume when it isn't Halloween or driving a car covered in mirrors pretty much whenever you please.
But there's no need to play down one's peculiarness at Pasadena's lively 'n long-running Doo Dah Parade, an event that embraces eccentricity and raises doin' your own thing to zany, eye-popping heights.
Those heights will again be reached on Sunday, Nov. 20 when the 39th annual Occasional Pasadena Doo Dah Parade sets out from East Pasadena down Colorado Boulevard.
The Scene
What to do, where to go and what to see
That the word "Occasional" figures prominently in the event's official name should reveal much: This is not a parade that sweats it. There aren't embroidered jackets and fancy, gold-lined souvenirs. It often doesn't even start at 11 a.m., which is the listed starting time, but, really, feel free to cock a questioning eyebrow in the general direction of that piece of information.
So plan on 11, 11:15... Whenever it gets going, it gets going. Show with a lawn chair and a book. Maybe a board game, even.
So who is marching? Short answer: Anyone with ten bucks and an interesting outfit or glittery sign or roller skates or some combination of the three.
Slightly longer answer: The 2016 entries include Motorized Furniture, Murrugun the Mystic, The Munster Coach, Star Trek for Space, Dr. Steele's Army of Toy Soldiers, and a bevy of other collectives bent on exploring unusual themes. Keep in mind that the themes seen at the Doo Dah may be instantly discerned by onlookers, or not easily discerned, or perhaps were never meant to be discerned at all.
It's free to watch, and sometimes, if you're in the right spot, a hot dog bun and/or piece of candy might land in your lap. Let's just say that the Doo Dah as interactive parades come. Calling it especially "crowd-aware" feels about right.
And, you're right, local history buffs, this strange strut did begin in 1978 as a tradition-tweaking answer to The Tournament of Roses.
That both the Doo Dah and the Rose Parade are so much a part of the Crown City's fascinating fabric is a tribute to the place.
Few towns can rock a weirdly whimsical parade, and fewer still boast a world-famous parade, but Pasadena possesses both, with its natural Pasadena ease with both sides of this coin fully on display.
Props, Pas. You're home to two of California's most notable public processions, one rosy, one rollicking, and both so you.
Copyright FREEL - NBC Local Media