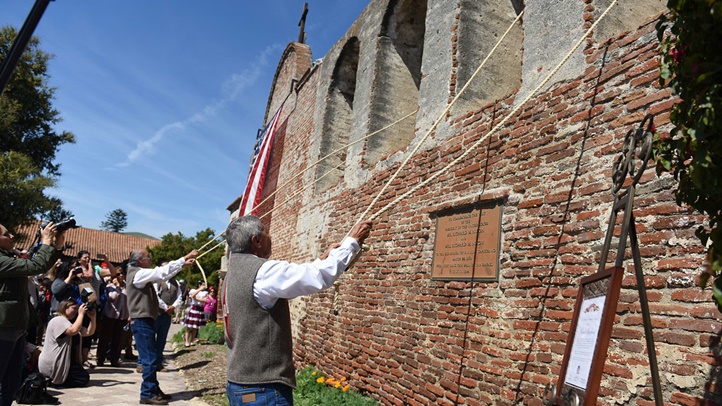 Return of the Swallows: If it is March 19, it is, yes, you're correct, nearly spring, hoorah. It is also the day when the swallows are said to return to San Juan Capistrano, another happening that deserves a hearty hurrah. The historic mission will be welcoming the wee birds with the ringing of those mammoth bells, mariachi music, and more effervescent events on Monday, March 19. As for the swallows? They've flitted away in recent years, due to development, but a host of swallow-summoning efforts are helping. Will you see one? Look up.
Dairy Queen Free Cone Day: The signs of warming weather continue around the region. Is that a small vanilla cone in that person's hand, over there? And over there? And way over yonder? It must be the fabled and much-sung-about Free Cone Day at DQ. The date is Tuesday, March 20, and, yep, that gratis goodie is a cone, it is a vanilla, and it is small. Ready to jumpstart your spring-style snacking? Yeah, you probably are.
Last Remaining Seats: So you dig, like really dig, seeing vintage films, and more recently released vintage films (say, like, from the '80s or even '90s), in a cinematic setting worthy of the story on screen? Then you dig LA Conservancy's annual late-spring movie series. About six films pop up in historic movie palaces around Los Angeles, and there are special doings, too, before the film, like music or a Q&A. Tickets do go quickly. The reveal date of the upcoming 2018 slate? Wait for it on Wednesday, March 21.
The Scene
What to do, where to go and what to see
The Bunny Museum Turns 20: True story: A single thing or place or couple or person can enjoy multiple special anniversaries. The Bunny Museum, formerly of Pasadena and now in Altadena, recently marked the 25th anniversary of when its mega-mega-MEGA bunny item collection first began. Now, on Tuesday, March 20, it is all about when The Bunny Museum first opened. There's an eveningtime 20th anniversary Bunny Bash on the 20th, hippity-hoppity-ers of SoCal.
Dinner & a Show at Michael's Santa Monica: Is Thursday a better wind-down-the-week night than Friday, when everything can feel a little frantic as we prep for our weekend to-dos and events? Let's call it a prelude to the weekend, and let's call Thursday night, March 22 a good night to see some live collaborative performance from artists Kathleen Kim and Helga Fassonaki while enjoying an elegantly made, presented, and poured dinner from Michael's. It all happens at The Gallery at Michael's and a ticket? It's $75.
Copyright FREEL - NBC Local Media