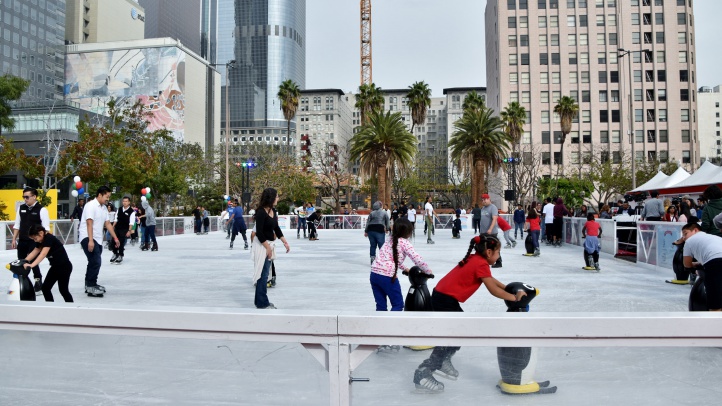 What to Know
Nov. 15 opening
$5-$15
Through Jan. 21, 2019
Pershing Square Ice Rink: The seasonal ice rinks are rolling out, giving those who love to ice skate under the sun, or stars, or even the building windows of DTLA, the chance to do so. The 2018 Holiday Ice Rink Pershing Square by Bai will set up festive shop downtown for over two months, deliveirng daily skating as well as special events like the Silent Skate Parties and opportunities to learn how to curl. Opening day? It's Thursday, Nov. 15. Every Wednesday during the run? There's a "Wicked" theme, with music from the cast album.
The History of Central Avenue: If you know your jazz history, and your local musicians, and your Southern California history, you know how central Central was to the flowering of so much great music, and the fabulous artists who created it. Take a journey back, on the afternoon of Thursday, Nov. 15, to the span of time that ran from the 1920s to the '50s, and discover even more about this essential part of the LA story. The place? It's all happening at the California African American Museum; RSVP now.
World of Taste: A mid-week nosh-around at a popular public market? It feels like something to lift the spirits and tempt the taste buds, both. That's just what will be going down, one forkful at a time, at the historic Anaheim Packing House on Wednesday, Nov. 14. Buy at ticket for $40 and enjoy 10 "gourmet tastes" around the foodie destination. On the participant list? Ecco Pizza Shoppe, The Kroft, and Umami Burger, but there are oodles to pre-yum out over, so pre-yum out now.
The Scene
What to do, where to go and what to see
Bold Holidays open in Beverly Hills: It's year two for this holiday-time extravaganza, which which features "(e)xtended shopping hours on Friday and Saturday evenings from November 16 to December 22." Holiday-themed items at Golden Triangle restaurants? Those are part of the scene, too. But to kick it all off, there's the Rodeo Drive Holiday Lighting Celebration, which'll deliver live music and twinkly dazzle to anyone at the posh thoroughfare on Thursday, Nov. 15.
Milk Bar Turns 10: Hankered for something sweet or pastry-rich at this decade-old delight? Then make for its new West Hollywood outpost to celebrate its 10th birthday. Customers get the treat, in the form of a $1 serving of soft serve on Tuesday, Nov. 13. That includes the O.G. Cereal Milk Soft Serve and the Fruity Cereal Milk Soft Serve. If you can't make it for your one-buck goodie on Nov. 13, note that the Fruity Cereal Milk Soft Serve will be available at the company's West Hollywood flagship from Nov. 13 through 30.
Copyright FREEL - NBC Local Media