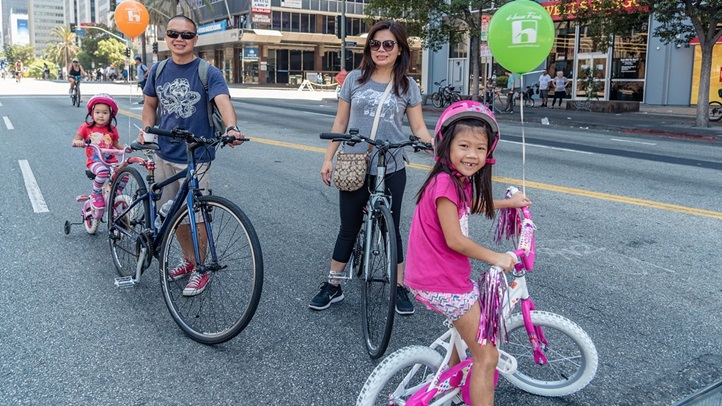 CicLAvia: Every day is a beautiful day to bike, if that's your bag, but the ultimate perfect day is an October afternoon, when the air is crisp and the temperature is on the cool side (seriously, verify that claim in the nearest "Perfect Days Defined" manual). Bicyclists and people strolling on foot will get exactly that on Sunday, Oct. 16 when this mega, close-the-streets-to-cars event returns to downtown. Community booths, local flavor, and be-together-y good times await, for free, as thousands of riders roll out to enjoy an ideal fall day.
Farmers Market Fall Festival: Look, you don't need to wear your denim overalls, or a straw hat, to get your hoedown on at this longtime Third & Fairfax country fair, but if you like petting goats, and listening to banjos, and cheering on pie-eating contests, and talking to living scarecrows, and all for free, well... maybe the overalls and hat are in order. It's the 82nd annual festival, a true LA tradition, and it ginghams-up the clocktower'd landmark on Oct. 15 and 16.
Oktoberfest Time: The ongoing weekend Oktoberfests, from Old World in Huntington Beach to Big Bear, Anaheim, and Lake Arrowhead, keep oompah-pah-ing along, but there are a couple of one-day-only biggies just ahead: The Pasadena Octoberfest (yep, Octoberfest) at the Rose Bowl and the Vegan Oktoberfest at LA Center Studios. Both roll out the steins and sup-worthy choices on Saturday, Oct. 15, but note: You'll need to buy your ticket to Vegan Oktoberfest ahead of time. Carry on, Chicken Dancers and accordion enthusiasts.
The Scene
What to do, where to go and what to see
Underwater Art Show: If you swam as a kid, chances are you put on a few performances while playing in the shallow end ("watch me do a handstand!" is a frequent request). But rarely has anyone staged a full-on art show in a full-of-water swimming pool, an exhibit with sculptures, underwater video, and more. Machine Project will do so, at the Annenberg Community Beach House Pool, from Oct. 14 through 16. Reserve a spot, and remember your suit.
Zombie Walks: Should you show up at the Los Angeles County Museum of Art or Rainbow Lagoon in Long Beach in the coming days, chances are fairly good you might encounter a few undead types sauntering by. LACMA is doing a special Local event on Oct. 15 that'll teach participants how to zombie, while the Long Beach to-do is out-sized, with three days of groan-y haps (Oct. 14 through 16). Happy moaning and meandering, dear monsters of mid-October.
Copyright FREEL - NBC Local Media