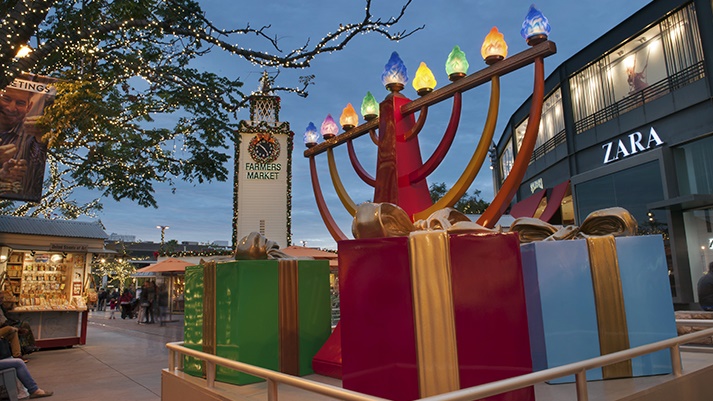 Celebrate Hanukkah: Eight beautiful nights, places to see that glow and sparkle, and friends and family keep close? It's time for the Festival of Lights, and while you'll behold many marvelous menorah lightings around town in the coming days, do make time to call upon the Original Farmers Market on Sunday afternoon, Dec. 2, for family-cute Hanukkah happenings (like the building of a LEGO menorah) or the Skirball Cultural Center, which will have an afternoon of gelt decorating, music enjoyment, and more, also on Dec. 2.
LA Auto Show: Have a dream machine in mind, one you'd love to see idling in your driveway next year? Making a stop by one of the planet's most powerful car-oriented extravaganzas seems like your first must-do. It vroom-vrooms from Nov. 30 through to Sunday, Dec. 9 at the Los Angeles Convention Center, and the list of exhibitors, exhibitors trucking out the shiny, shiny machines, is super-lengthy: Alfa Romeo, Jaguar, and oodles of other mondo makers o' cool cars'll be in the house and showing off their best of the best.
CicLAvia: There've been some warm versions of this free and huge bike-ride-in-the-streets spectacular, but the one rolling on Sunday, Dec. 2 through the "Heart of LA" won't be one of those. You'll want to bundle up, or at least think in layers, as you spin by some truly historic buildings and sights around DTLA and east of downtown. Picture wide thoroughfares closed to vehicles but filled with Angelenos out biking, roller skating, and enjoying the cool late-fall weather. How long is it, in all? There are six miles to cover, oh yeah.
The Scene
What to do, where to go and what to see
'Winter Glow' Opens: Finding something lively to do at the holidays that also happens to be free is a treasure, for sure. A treasure, that is, of "grand" proportions, which is a totally obvious hint as to where this illuminated happening is popping up, wink wink. It's Grand Park, which will play host to the new art-cool to-do from Dec. 1 through Dec. 25. What's to see, for free? Oh, 19 installations that give the eveningtime glow. And, yes, there's an interactive element, too. Ready for a fresh, zazzy, and way-lit take on the season? Glow for it, at Grand Park.
'Grinchmas' Is Back: Enjoying an audience with the main resident of Mt. Crumpit? That doesn't happen every day, but then Grinchmas is pretty darn special. After all, the celebrated Dr. Seuss meanie-with-a-heart-of-green, er, gold, boasts quite the busy schedule. But he makes time for a Universal Studios Hollywood visit each December, along with Max and a caboodle of Whos. Singing, joking, and photos are part of the yuletide-tastic fun. Day one? It's Dec. 1. Look for the Grinch to be at Universal over several select December 2018 days.
Universal Studios and NBC-owned TV stations operate under the same parent company NBCUniversal.
Copyright FREEL - NBC Local Media