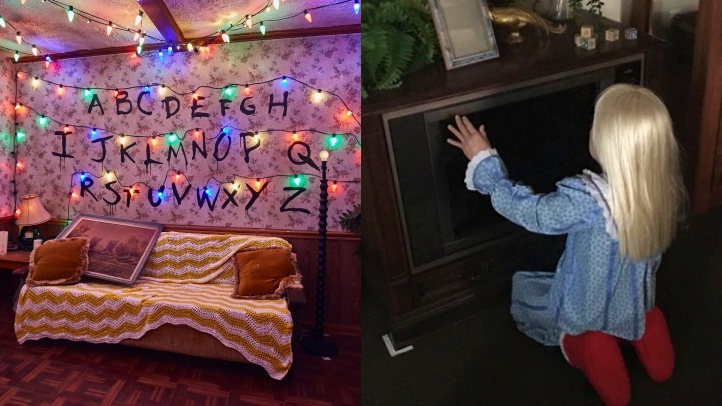 Halloween Horror Nights: The opening of any mega 'n monstrous event can always put a person on tenterhooks, but knowing you'll be calling upon a certain spirited suburban house, from "Poltergeist," can really turn that clown, er, frown upside down. The maze debut that has people buzzing is "Stranger Things" — no waffling, you're going inside — but there's so much to dreadfully do, from the Terror Tram, a maze themed to "Halloween 4," the permanent "Walking Dead" attraction, and other eeks. Plus? The RIP Tour brings the not-so-pernicious perks. It's all haunting Universal Studios Hollywood, on select nights, from Sept. 14 through Nov. 3.
California Coastal Cleanup Day: Certainly, and we'll go out on a limb here, or, rather, a long piece of kelp, there is a bit of beach or a section of shoreline that is very important to you. Perhaps more than a bit, even, if you love all of the places where water meets land around the Golden State. How to keep your beach or shore shipshape? Joining this huge volunteer effort, "the state's largest annual volunteer event," is a swell idea. Thousands of give-backers'll take to the rivers and bluffs and banks of our ocean and waterways on Saturday, Sept. 15, all to send litter packing.
Son of Monsterpalooza: While pop culture conventions and Halloween conventions do flourish 'round these parts, pretty much at all points of the year, there are gatherings that are so ghoulish, and fang-tastic, and scar-scary, that they deliver some true monster magic. Make that monster make-up magic, for this three-day gathering at The Marriott Burbank Convention Center & Hotel will have plenty of demos from pros, celebrity guests (hello, Kathy Najimy of "Hocus Pocus), and plenty of vendors to pursue. Better lumber, monster-style, to Burbank from Sept. 14-16.
The Scene
What to do, where to go and what to see
Pride of the Valley: So you dig open streets events, as in those happening where various thoroughfares are closed to motorized traffic. And you dearly love the SGV, and look for all the ways to soak in the splendor and culture and community that shines in the San Gabriel Valley. Lucky you: On Sunday, Sept. 16 over four miles of major roadage'll shutter to cars, leaving you free to stroll 'n roll on your bike. There shall be live music, and vendors, and info booths, and lots to see. Bonus? The weather is looking mighty fine, as in summer's last hurrah, so don't delay. Open-street-it-up, SGV-style, in Baldwin Park and Irwindale.
Irvine Park Railroad Pumpkin Patch: To say that the openings of our region's biggest pumpkin patches will be rolling out in the coming days is to make kind of a joke, because, well, pumpkins roll. So do trains, in a sense, and this slice of Orange sweetness will have that kid-cute train on the roll, and lots of activities (face painting, bounce house, and such), and oodles of locations that should prompt that perfect child-sitting-near-a-squash snapshot. Opening day for 2018 is Saturday, Sept. 15, and while activities and pumpkins cost, entry is free.
Universal Studios and NBC-owned TV stations operate under the same parent company NBCUniversal.
Copyright FREEL - NBC Local Media