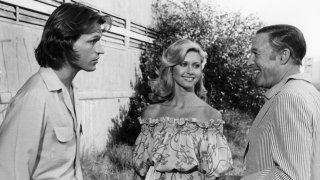 What to Know
The Frida Cinema in Santa Ana
Thursday, Aug. 25 at 8:30 p.m.; $10.50 adult, other ticketing tiers available
A portion of tickets sales will be donated to the foundation, which sponsors "global research into plant medicine for cancer"
Fans will remember movie and music luminary Olivia Newton-John, who passed away at age 73 on Aug. 8, 2022, in numerous moving ways, from visits to her Walk of Fame star to replaying her classic albums, singing along with each heartfelt ballad.
And for The Frida Cinema, an independent movie theater in Santa Ana?
Paying tribute to the star will involve taking a trip to "Xanadu," on a warm August night, with a powerful purpose: To raise money for the Olivia Newton-John Foundation Fund, which is dedicated to "... sponsoring global research into plant medicine for cancer."
"Olivia has been a symbol of triumphs and hope for over 30 years sharing her journey with breast cancer," read an Aug. 8 statement on the performer's official Instagram page.
The fund will continue to honor her journey, something the Aug. 25 "Xanadu" screening will play a part in supporting through a portion of the evening's ticket sales.
If "Grease," a blockbuster that's famous for the star's charming turn as Sandy, songfully and succinctly captured the love that people of the late '70s had for '50s pop culture, then "Xanadu" danced down a different path.
The singing-and-skating romance, which followed "Grease" just over two years later, summoned the magical promise of a new decade, big artistic dreams, and the optimistic Los Angeles lifestyle.
The magic at the heart of the 1980 movie shone through Olivia Newton-John's ethereal and ebullient performance as Kira, a rollerskating Muse with a tender talent for changing lives, and the world, for the better.
Formerly a fanciful figure painted on Venice Beach wall, the charismatic character burst forth from her mural and soon began skating around LA, dancing with Gene Kelly, and crooning inside an enchanted roller rink, the real-life but long-gone Pan-Pacific Auditorium.
"Xanadu," which features several fizzy songs by Electric Light Orchestra, remains a milestone movie for members of Generation X, and all film fans who appreciate an earnest and uplifting musical fantasy, a joyful genre that can seem unsung until a screening draws ardent fans eager to support cinema that's unabashedly sunny.
Tickets? They'll surely go quickly for this special fundraiser, so "don't walk away"; secure your entry now.