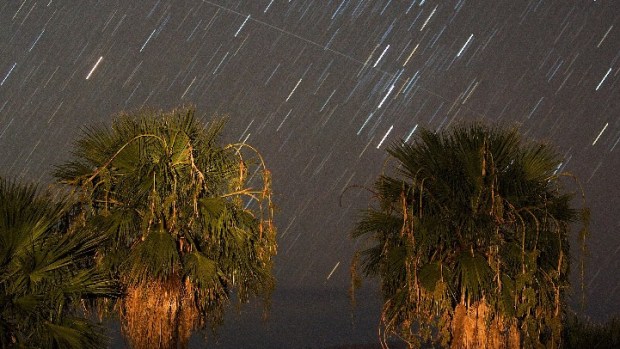 Getty Images
The Perseids Shower is set to return over the Aug. 10-12 weekend.
SKY SHOW: Meteors don't observe our earthly calendars, meaning they have a tendency to do their meteoric shooting thing throughout the year. But there's something about staying up for a meteor shower in August that feels almost cinematic to us. Kids are still out of school; we picture them in their PJs, sitting on a lawn, looking through a telescope. And the nights are warm, even hot, so sky-watchers are out in flip-flops or barefeet. We like a good winter sky show, too, but being outside in late summer, around midnight, and looking up feels a tad special. So, nope, the Perseids didn't schedule their August 2012 show with us in mind, but we're glad they'll be coming through town -- or, er, shooting across the sky -- over the Saturday, Aug. 11 and Sunday, Aug 12 weekend.
DESERT GATHERING: Borrego Springs Resort & Spa has a lovely knack for rounding up astronomy buffs and a helpful astronomer during the meteor-rich nights. Dennis Mammana is the astronomer, and he'll have his telescope out on Saturday, Aug. 11 for "The Rain of Fire." The hotel has a special package on that night -- $89 bucks per person, and that includes dinner -- for star lovers. Oh, and this is nice, too: You'll get a late check-out on Sunday, Aug. 12, seeing as how you'll probably be awake into the wee smalls. The hotel has a few tips on preparing for the Perseids, so check out this pdf before making your plans. And, yep, Borrego Springs is dark, as the desert is; we're grateful to have the desert close by on meteoric nights, for sure.