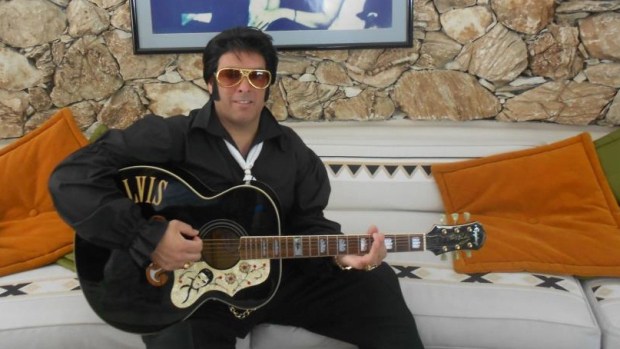 Chris Luna
Tribute artist Chris Luna will rock in the Elvis Birthday Party Celebration at the Honeymoon Hideaway in Palm Springs on Saturday, Jan. 5.
A FESTIVE FANDOM: Whether you really love a singer or a film or a book or not, you can appreciate the fact that fandoms make the world go 'round. No, they really do; while people may casually follow a band or actor, it's the fans that propel people to cultural heights. And while there are many long-running fandoms deserving of our applause, there are few that can equal The King's. This is a universal assumption that is hard to challenge, given the fact that Elvis Presley remains the icon of icons decades after he journeyed on. (Though some fans, to this day, engage in Elvis sightings, of course.) Lovers of all things Presley have a number of occasions they observe, but none more than the idol's January birthday. And for those people who can't make it to Graceland, the musician's razzmatazz-filled home in Tennessee? There's the Honeymoon Hideaway in Palm Springs which was indeed the place that Elvis and Priscilla spirited away after their 1967 Las Vegas wedding.
HIDEAWAY HIGH JINKS: The landmark desert home will once again ring in The King's birthday with tribute artists and more. Chris Luna and the TCB Flash Band is set to perform and people who knew and performed with Elvis will be in the mix. Tours of the mid-century gem are part of the day, as is a neat peek at the secret passageway. It's a true treat for Elvis fans, people who like the era in which the star rose, and fans of La Vida Palm Springs. If you like all three, you're in luck: It's happening on Saturday, Jan. 5, 2013.