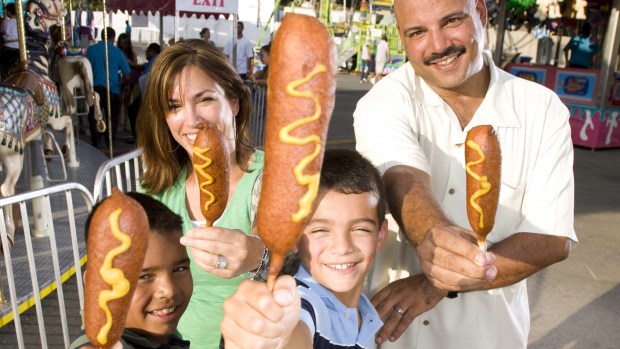 California State Fair
The 2012 California State Fair opens in Sacramento on Thursday, July 12. What foods will you try?
CORN DOG OR COTTON CANDY: There used to be a day when fair goers were satisfied with their special treat. Oh, it might be a corn dog or it might be cotton candy. And then, somewhere along the way, maybe a decade or two ago, culinary experimenters began to dip butter in batter and fry it and wrap bacon around other things that may or may not contain bacon and, we imagine, even somehow combine corn dogs and cotton candy. (Actually, that sounds kind of good, the sweet and the salty.) So now when we go to the fair it isn't so much "where's my favorite treat?" as "what offbeat dishes will I be brave enough to sample?" And you know what? That's a-ok, since fairs have long been about showing off ingenuity and people's talents and best tries. With that in mind we tuck in our bib and prepare to peruse the food list of the California State Fair, which makes its annual debut on Thursday, July 12 in Sacramento.
ON THE MENU: Yep, all of the classics'll be sizzling in various booths, but if you do indeed want to change it up, deep-fried cheese curds and a grilled Caesar Salad -- uh, exclamation points !!! -- should perform the change up for you quite nicely. And new stuff? That includes 17-inch cow's rib with a 24-ounce steak atop it -- it is called the Big Beef Rib, which is just about as straightforward a name as we need -- as well as a pork chop on a stick. There's also a new deep-fried red velvet cake and, yep, that comes with frosting. Sweet petunias that sounds like something magical. For more on fair food, click. For more on the fair itself, click. The California State Fair wraps up on July 29.