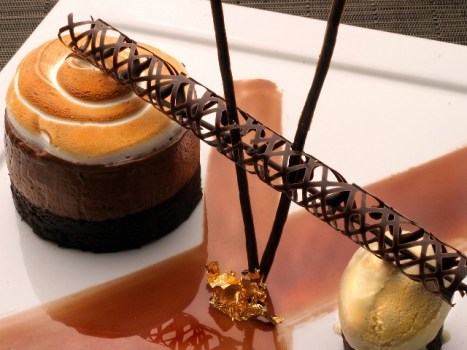 Island Hotel
The Cocoa Lounge at Island Hotel will be dishing the good stuff from Feb. 4-26, 2011.
VALENTINE'S MONTH SWEETNESS: Us? This is the truth: We'd like to see seasonal dessert salons, the ones that seems to pop up in restaurants and hotels around the holidays and February, last the whole year through. Triple Chocolate Cupcakes, on the hottest July day? No problem. We'll just have an extra napkin handy for all the melty frosting. But we are happy they do make a strong showing when they do, and there's another just ahead. It's the Cocoa Lounge, at the Island Hotel in Newport Beach, and the Palm Terrace-based buffet'll be dishing up s'more-ish sweets from Feb. 4-26, 2011.
ON THE MENU: Triple Chocolate Cupcakes (we had to mention them early). White Chocolate Strawberry Shortcake. Lollipops and peanut caramels, and lots of other goodies. It's $18 (tax/tip extra, natch), and you can phone the hotel for details. Also, the Island has several stay-over specials, too, in case you down way too many cupcakes, and don't feel like making the drive home. Not only understandable, but probably likely.