worth the drive
Coronado Oompah: The Sunniest Oktoberfest Around
The Del's deck'll serve up brews, schnitzel, fall festiveness.
Sunday, Aug 24, 2014 • Updated 9:31 AM PDT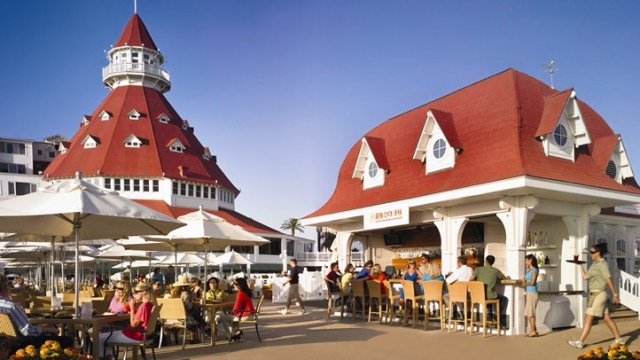 Hotel del Coronado
The Sun Deck at Hotel del Coronado hosts an Oktoberfest over the final weekend of September 2014.
SUNSCREEN ON, OKTOBERFESTIANS: Certain celebrations can take on certain settings and feels in our mind. Thanksgiving might automatically summon a long table loaded with mashed-potato-y items while graduation makes us think of a grassy lawn or stadium with a podium front-and-centered. But what of Oktoberfest? Yep, you probably just visualized a giant stein of beer, and maybe lederhosen, and perhaps a large, slightly shadowy hall, like one might find around a mountain town near Munich. But celebrations should take on a bit of local character, when they travel from where they started, and Oktoberfest shall, at Hotel del Coronado come last weekend of September (the traditional time for the oompah party, despite the "Oktober" in the name). Nope, the shadowy hall won't be duplicated in the hotel's landmark Crown Room; rather, the stein-raising and Chicken-Dance-ing shall land on the Sun Deck, that umbrella-laden spot between the Del and the ocean. Oh, right, the ocean: Ever enjoyed Oktoberfest steps from the sand? It's not what you pictured in your head for the holiday, but Californians walk their own road with annual fests (walk it, often, in beach-ready flip-flops).
DATES AND DETAILS: The foamy fun sips and sings from Friday, Sept. 26 through Sunday, Sept. 28. A "Bavarian-style beer garden will pop up on the Sun Deck, serving bratwurst and sauerkraut, Munich-style pretzels from San Diego Pretzel, schnitzel, and more, plus select specialty beers from Paulaner and Karl Strauss." Will there be Oktobefesty entertainments? Yes. Is it free to get in? You bet, but bring money for suds and eats. Are you pondering how many traditional beer halls throughout the world are mere feet from the ocean? It's a different twist on a bash that has its tried-and-true tropes. Just watch the sand in your dirndls and lederhosen, stein-wielders.
Copyright NBC Owned Television Stations