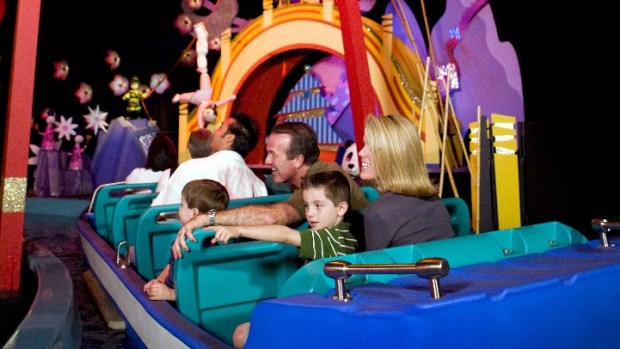 Paul Hiffmeyer/Disneyland
Disneyland celebrates Leap Year 2012 by staying open 24 hours.
LEAP LARK: It's always night somewhere at Disneyland, right? Oh, let's start with the Blue Bayou restaurant, with its wee fireflies and strings of colorful lamps. Daytime never arrives for that inside-the-Pirates-of-the-Caribbean eatery. Nor does it ever arrive at the Haunted Mansion. That graveyard? Yeah, it is always midnight. Or, rather, it is always 13 o'clock; okay, Disney fans, we know what time the clock in the hallway shows. But actually being at Disneyland all night long is a rare treat. Oh, sure, your friend's high school maybe did it back in 1987, but it is not a common occurrence. When the fireworks end the crowds start to head for the gates. But they won't be doing that on Wednesday, Feb. 29. Why? Because, dear friends, the famous theme park will celebrate Leap Year by staying open a full 24 hours.
GET YOUR NAP IN: Naps before going to this will be important for both kids and adults, we imagine. But, can you imagine? Space Mountain at 4 a.m.? Or being inside the Haunted Mansion at 13 o'clock? Or, er, 1 a.m., we mean, we suppose? Disneyland will open at 6 a.m. on Feb. 29 and stay open right through 6 a.m. on Wednesday, March 1. Our obvious question is this: Who is up for staying up for all 24 hours? And how many times can one ride Space Mountain during that period? And how does a dill pickle taste at 5:15 a.m.? Happy Leap Year, Mickey and Minnie. Happy Leap Year.