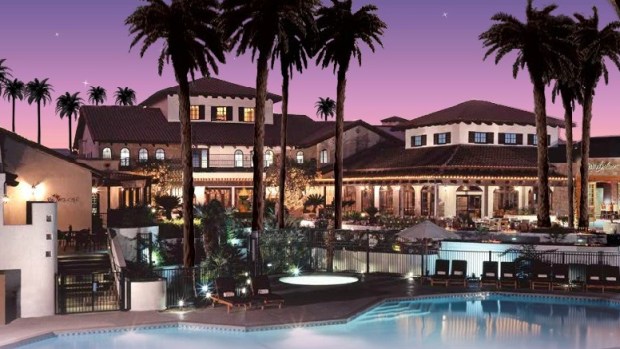 Rancho Las Palmas
Need some sunshine with your holiday? Rancho Las Palmas has a "Dreaming of a Desert Christmas" package on now.
POOLSIDE YULETIDE: A Palm Springs Christmas has the ring of an early 1960s cinematic romp -- we're picture a bathing suit on the poster, in shades of green and red -- and there's good reason why: It's very beautiful and quite full of the holiday spirit, both. Not every place can say that it has both fine winter weather and a devotion to all things holiday, but Palm Springs does. The fine weather comes courtesy of its desert location; nights are chilly and crisp but days are bright and, in some circumstances, made for the wearing of short sleeves. And on the holiday end of things? There is the famous Palm Springs Follies holiday show, the Living Desert's Wildlights, and the Festival of Lights parade. Add to that a number of solid wintertime stay-over packages, and you have a fine Christmas getaway.
RANCHO LAS PALMAS: One Palm Springs resort that is doing it up over Christmas week is Rancho Las Palmas. They've got a deal on called Dreaming of a Desert Christmas, the dates are Dec. 22-31, and there are seasonal goodies like four tickets to Wildlights and a fireside hot chocolate tasting for two people. Rates start at $256 for a night's accommodations. And you'll spend a little time poolside, right? Even if those desert temps dip in late December, a few minutes on a lounger, in the sunshine, might be just the antidote to all the holiday bustle.