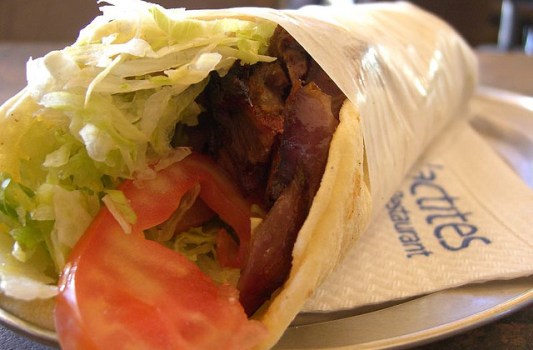 Gyro
When was your last gyro? If it was only a couple of days ago, it is time to enjoy another. Because, mmm, gyro. Make for Anaheim and the Orange County Greek Festival on Friday, May 17 through Sunday, May 19.
DELICIOUSNESS, WRAPPED UP: What's that one dish that it is impossible for you not to rhapsodize over at length? We're talking the foodstuff that you can eat pretty much every day for a month. You wouldn't, no, but put to the challenge, perhaps, you think you could do it. We'd guess that, for many people who love savory classics that come accompanied by some greens, some deliciously cool topping, and a soft pita, that once-a-day-for-a-month meal would have to be the gyro. There are several reasons the gyro might be one of the world's best dishes, but here are the ones we favor. 1) You can walk while eating it, or do anything, practically, which can't be said about many yummy things (we're not talking to you, pizza; you qualify here). 2. Tzatziki. Right? Need we say anything else? Tzatziki makes everything zippier. 3) The lettuce/tomato element, which lends some crunch and tartness. And 4) a perfect pita, a pillowy pita, a pita that is more chewy than hard. And 5)? You'll always find a really classic gyro at one of our state's most classic Greek Festivals, the Orange County Greek Festival.
DATES, DETAILS, AND DISHES: The party will opa! over three days in Anaheim: Friday, May 17, Saturday, May 18, and Sunday, May 19. Food will be a main centerpiece, of course, and beyond the gyros we'd go for ouzo -- that's the anise-y liquor, mmm -- loukoumades, which is a pastry dessert, and a souvlaki (gotta go souvlaki). Dancing and vendor booths round out the weekend. Oh, and admission? That's three bucks, but be sure to stow some cash for all of the edibles. You're starting with the gyros, right? We'll see you there.