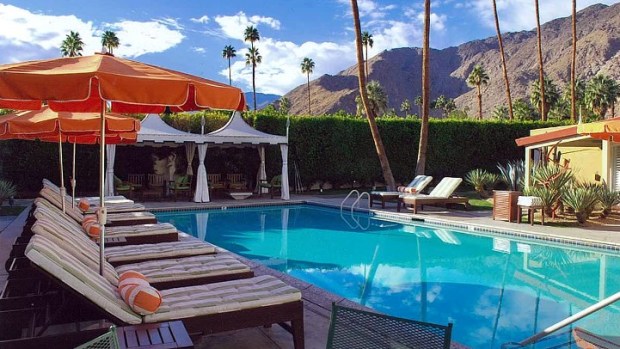 Palm Springs
The hotels and motels of Palm Springs are rocking the summertime discounts.
MISTERS AND BEYOND: People may moan about the heat in other places -- and rightfully so -- but you rarely hear complaints about summertime in Palm Springs. Why is this, exactly? Well, put it down to the resort city's ample use of misters in restaurants and other public places. Or thank the swimming pools that dot the swanky destination. Or credit the great warm-weather events the city hosts, like its June Restaurant Week and the Palm Springs International Short Film Festival, which recently wrapped. Whatever the reason, people shrug off the 100+ degrees in the desert and plan July and August weekends out thataway. (Oh, and we forgot reason #4: It's a dry heat.) Which is why whenever we see the hotels in the area band together and offer a whole caboodle of discounts and deals we do tend to cock an eyebrow and say "do they know that summertime is one of the best times to be in Palm Springs?" Well, shhh. We won't tell them because we do love the sweet sweltery money-saving offers.
LIKE... Stay two nights and get a third free at Andalusian Court. Get a $115 spa credit at the Hilton Palm Springs. Or nab a Desert Vacation Villa for $70 bucks a night. Over 45 properties in all are participating, with some even offering "complimentary weekday nights" when other nights are purchased. There are a bunch of dinner specials, too, on the Come Play in Palm Springs site. Best of all? The bulk of the deals'll roll right through the end of September, meaning if you want slightly cooler temps you can get them (granted, there won't be a huge drop in September, but the start of fall in the desert is pretty beautiful). For more desert dreaming, click. Now, please take us to the nearest mister and tall Arnold Palmer...